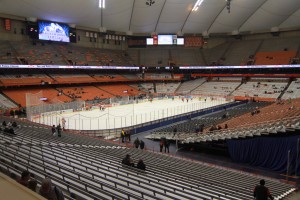 No. 2 Oswego State saw a one-goal victory quickly turn into a bit of a nightmare on Friday night as it allowed two goals in the final six minutes of play en route to a 4-4 draw with the College at Brockport Golden Eagles.
The Lakers return to the ice less than 18 hours later on a large stage as a way to put the failures of the previous night behind them. Today, they take part in the Toyota Frozen Dome Classic from Syracuse University's Carrier Dome against the Utica College Pioneers.
The Pioneers, usually one of the tougher opponents on Oswego State's schedule, come into the afternoon's tilt at 1-4-1, winless in their last four games. Besides championing the fourth-best power play in Div. III, Utica has struggled to put the puck in the back of the net, scoring just eight of 18 goals at even strength.
Utica is still in search of a starting goalie at the moment. All three net-minders on its roster have seen consistent playing through the team's opening games. While senior Mike Taffe is getting the nod this afternoon, less than 24 hours ago freshman Cory Simic was in between the pipes for the team's 4-1 loss at home to Neumann College.
For the Lakers, returning much of last season's Frozen Four roster, the season has started off much more successfully. Currently 5-0-1 (3-0-1 in SUNYAC play), Oswego State is third in the nation for scoring offense and power play efficiency. Another addition to its impressive play thus far has been the resurgence of a penalty kill unit that struggled at points during the 2013-2014 season.
Sophomore Matt Zawadzki steps back into the crease for Ed Gosek's side on Saturday after being pulled in the second period on opening night at Buffalo State. Zawadzki led the Lakers to a SUNYAC Championships title and the Frozen Four during his freshman campaign and has the ability to do it again. Saturday's game against Utica is his test to see if he can retake the top spot on the depth chart.
The Pioneers and Lakers have played some exciting games in the past several years as the two sides have been among the best in the country, as well as their respective conferences. The stage is a bit bigger, the lights a bit brighter, but when the puck drops at 3 p.m. the goal is no difference, a victory.
By the numbers:
1-In the first meeting between these two teams last season in the PathFinder Bank/Oswego Classic finals, Oswego State knocked off Utica College in a shootout on a single goal by now-graduated, senior captain David Titanic.
4-Oswego State sophomore Matt Zawadzki makes his return to the crease this afternoon. The Fort Mill, S.C.-native started both contests between the Lakers and Pioneers last season giving up just four goals in two games, picking up two wins in the process.
38-Oswego State averaged just over 38 shots per game so far through six games this season, only two more than the Pioneers.
6,562-When combined, Utica and Oswego State's average attendance for home games is 6,562. The Lakers and Pioneers each traveled just under an hour to get to the Carrier Dome, so expect both fan bases to be out in full force this afternoon.
Scoring/Special teams breakdown:
Scoring offense: Oswego State-6.17 goals per game (3rd nationally)
Utica College-3.00 goals per game (T-29th nationally)
Scoring defense: Oswego State-2.33 goals allowed per game (T-21st nationally)
Utica College-3.67 goals allowed per game (T-51st nationally)
Power play: Oswego State-39.29 percent [11 of 28] (3rd nationally)
Utica College-31.29 percent [10 of 32] (4th nationally)
Penalty kill: Oswego State-87.00 percent [20 of 23] (25th nationally)
Utica College-73.90 percent [17 of 23] (T-63rd nationally)
Goalie matchup: 
Oswego State
Sophomore Matt Zawadzki: (1 GP, 0-0-0, 7.54 GAA, .667 save percentage)
Utica College
Senior Mike Taffe: (2 GP, 1-1-0, 3.45 GAA, .891 save percentage)

Player to watch: Oswego State sophomore forward Shawn Hulshof: Not as loud on the ice as some of his counterparts, Hulshof is off to a fast start in his second season. The Stouffville, Ont.-native has tallied 11 points (three goals-eight assists) through six games and, while known for his size and slap shot, has become a key distributor of the puck instead of scoring. As a member of the top power play unit and one of the Lakers' best forward lines, watch out for Hulshof to factor heavily into the Oswego State offense on Saturday.
Prediction: 4-0 Oswego State