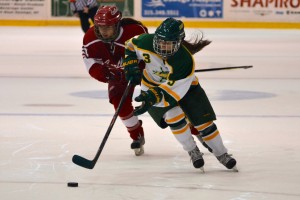 The Oswego State women's ice hockey team returns to the ice Friday afternoon for its first of two conference contests this weekend against SUNY Potsdam at the Marano Campus Center Arena. The Lakers are 2-2 so far on the year, while the Bears are 2-1-1.
Oswego State is coming into the weekend series after splitting a series against SUNY Cortland, winning the first game, 4-0, but falling in the second game, 3-1. SUNY Potsdam came out of its most recent series with a victory and draw, tying William Smith, 1-1, in the first matchup, but winning, 4-3, in the latter game.
It has been an up and down year for the Lakers to this point, showing great offensive potential in many games, but failing to convert on many opportunities.
They have outscored opponents, 9-5, but have outshot them, 125-85, converting at a .072 rate. Averaging exactly 10 more shots per game than their opponents, it is easy to see why the potential has not lived up to the product on the ice.
Another worry for the Lakers is their power play efficiency. In 19 chances, they have only scored 1 goal, a rate worse than when the opponent is at full attack. To win more games, it is clear the Lakers have to increase efficiency when they have an advantage.
Oswego State's opponent on Friday and Saturday, SUNY Potsdam has done very well killing off penalties, allowing one goal on 14 chances.
Despite the offensive struggles, the Lakers' defense and goaltending have kept them afloat. Junior captain Tori Trovato has only allowed one goal while seeing action in three contests. The Fulton-native has shutout her opponent in the two starts she has gotten. Trovato's save percentage is currently at .973.
Since 2008, the Lakers are 4-5-3 against Potsdam, but have outscored them, 26-24.
Puck drop on Friday afternoon is 3 p.m., while Saturday's start is set for 11 a.m.