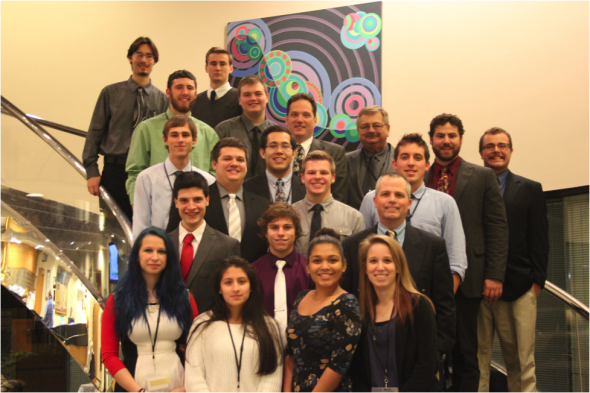 Seventeen members of the Oswego Technology Education Association (OTEA), all students in the department of technology, traveled to Virginia Beach, VA for the Technology and Engineering Education Collegiate Association's (TEECA) Eastern Regional Conference/Competition.
While there, the Oswego State team divided up and competed in six different academic events all focused on different areas of technology. In these six events, Oswego State placed in five of them, and every student on the trip received recognition for placing in at least one event.
The awards for the students were as follows: 3rd place in Communications; 2nd places in both Poster Session and Teaching Lesson; and 1st places in both Transportation and Problem Solving. In addition, Thomas Kubicki, from Oswego State, came in 2nd place in the Technology Challenge Quiz Bowl for advisers.
OTEA is a student organization that represents the department of technology by participating in various events and hosting outreach programs with local elementary-aged children. Each year, they participate in both the Eastern Regional Conference hosted by TEECA, and the National Conference hosted by the International Technology and Engineering Educators Association (ITEEA). This coming March, the national conference will be held in Milwaukee, Wis., and OTEA is planning on competing and attending for professional development.