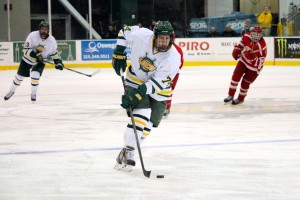 A 3-2 loss by Wisconsin-Stevens Point at St. Olaf last Saturday night allowed Oswego State to jump the Pointers, the team that eliminated it from the Frozen Four last season, and take possession of No. 2 in the USCHO.com national rankings. Now, the Lakers (3-0) set their sights on keeping the momentum going on an important and emotional weekend as they celebrate their 50th anniversary.
A large amount of former players and coaches are expected to return for the weekend's festivities, including some on the opposing benches. Friday night, Oswego State takes on SUNY Canton, which features head coach Trevor Gilligan, a member of the Lakers 2007 NCAA national championship team.
Gilligan is in his first season with the Kangaroos (0-2-1), and while the team is still winless he has it playing competitive ice hockey. Still a fairly new program to Division III, SUNY Canton is in its third season as a varsity program and set to become the 10th member of the SUNYAC next season.
The Kangaroos are coming off a two-game series at home against SUNY Fredonia, a team the Lakers defeated 10-2 on Nov.1. They tied the Blue Devils on the first night, while the visitors used three second period goals to grab the win on night two.
Oswego State comes into tonight's tilt off a victory over SUNY Cortland in its home opener, 6-4. The Lakers put up plenty of goals by night's end, but were given all they could handle by the Red Dragons. The game was the collegiate debut of Oswego State freshman goalie Mackenzie Sawyer and the team was missing half of its usual defensive lineup due to injury, but nonetheless holes were visible, both in play and composure.
Senior defenseman Mike Wills was ejected, along with SUNY Cortland's Tommy Nolan, both receiving 10-minute game misconducts for facemasking, and the two sides combined for a total of 60 penalty minutes.  The Lakers accounted for 29 of those minutes after averaging just 10 minutes per game during SUNYAC play last season, the lowest total in the conference.
This weekend, Oswego State has a chance to put last weekend in the rear view and work on all the little things with these two non-conference games before finishing the fall semester with four tough conference contests.
It is time to celebrate the past 50 years, while ideally also celebrating wins in the present.
By the numbers:
4–From its head coach to its players, SUNY Canton has four members of its team with ties to Oswego. Gilligan played at Oswego State from 2003 to 2007, sophomore Eric Witzel transferred to SUNY Canton from Oswego State and freshmen Trenton Yule and Josh Sova are both Oswego natives.
6-Of the 22 Laker skaters to take the ice in the team's first three games, only six have not earned a point thus far. Then, of the six, two left the season's opening game at Buffalo State early due to injuries.
8-The Kangaroos and Lakers have met eight times over the years, but each meeting was an exhibition. Tonight is their first official regular season contest.
21-The number worn by Oswego State forward Kenny Neil, 21 is a number to watch for throughout this season. Neil finished his freshman season on injury reserve after spending much of the campaign atop the team's scoring list. He is off to another fast start and looks to be an impact player for his team going forward.
Scoring/Special teams breakdown:
Scoring offense:Oswego State-6.67 goals per game (3rd nationally)
SUNY Canton: 3.33 goals per game (T-21st nationally)
Scoring defense: Oswego State-3.00 goals allowed per game(T-32nd nationally)
SUNY Canton-4.00 goals allowed per game (52nd nationally)
Power play:Oswego State-35.71 percent [5 of 14] (5th nationally)
SUNY Canton-23.53 percent [4 of 17] (19th nationally)
Penalty kill:Oswego State-84.60 percent [11 of 13] (T-23rd nationally)
SUNY Canton-69.20 percent [9 of 13] (62nd nationally)
Goalie matchup: 
Oswego State
Junior Justin Gilbert: (2 GP, 2-0-0, 1.25 GAA, .949 save percentage)
Sophomore Matt Zawadzki: (1 GP, 0-0-0, 7.54 GAA, .667 save percentage)
SUNY Canton
Freshman Spencer Landry: (2 GP, 0-1-1, 3.37 GAA, .914 save percentage)
Junior Luis Puig: (1 GP, 0-1-0, 5.07 GAA, .828 save percentage)
Player to watch: SUNY Canton sophomore forward Eric Witzel: Witzel transferred to SUNY Canton after spending his freshman season at Oswego State. The Ottawa native saw action in just one game for the Lakers last season over winter break against Connecticut College. As a Kangaroo, Witzel has seen action in all three games this season and picked up four assists. This fast start seems right on track with his production throughout juniors. Laker fans may not have seen much of Witzel during his year in Oswego, but he is a player that they will see plenty on Friday night.
Prediction: 5-3 Oswego State (5th on an empty net)