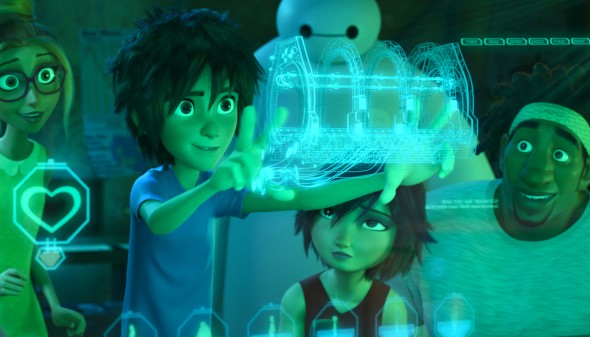 In the fictional city of San Fransokyo, Hiro Hamada, played by Ryan Potter ("Supah Ninjas"), is a 14-year-old genius that graduated from high school at 13, has a love for creating robots and illegal bot fighting. His older brother Tadashi, played by Daniel Henney ("X-Men Origins: Wolverine") spends his college days in an advanced robotics lab inventing robots to help the greater good.
Once Tadashi shows Hiro what it looks like to be in college working with robotics, the teen tries desperately to get accepted into the robotics program. After throwing around a bunch of ideas, Hiro invents mentally controlled micro-bots that impress everyone at the college's fair, including the dean.
The celebration comes to a grinding stop when tragedy strikes and Hiro is left without his beloved brother.
While dealing with the loss of Tadashi, Hiro is introduced to Tadashi's invention, Baymax, the personal health care robot. Played by Scott Adsit ("St. Vincent"), Baymax is a lovable robot who is programmed to take care of any health issue someone faces.
When Hiro and Baymax find out that someone stole the micro-bots that were supposedly destroyed, the two team up with Tadashi's friends from college to find the person responsible. This includes the extremely girly Honey Lemon, played by Genesis Rodriguez ("Identity Thief"), the tom-boy Go Go Tomago, played by Jamie Chung ("Sin City: A Dame to Kill For"), the neat freak Wasabi No-Ginger, played by Damon Wayans Jr. ("Let's Be Cops") and the mascot Fred, played by T.J. Miller ("Transformers: Age of Extinction"). These six become "Big Hero 6."
"Big Hero 6" is a perfect combination of the action of Marvel with the lightheartedness of Disney and the comedic aspects of both. Directed by Don Hall ("The Princess and the Frog") and Chris Williams ("Bolt"), "Big Hero 6" keeps the second golden age of Disney going with its amazing characters and great designs. The 3-D animation is highly detailed and shows just what the animators at Disney can do. The characters are expertly detailed and their stories are flawlessly injected into the movie.
The character everyone cannot seem to stop talking about is the lovable robot Baymax. He is programmed to help the sick and injured and conveys feelings of happiness and comfort. However, he is still a robot that cannot convey emotions too well and takes everything literally, which adds some hilarious dialogue between him and Hiro.
The main story is not really about super heroes and fighting crime. "Big Hero 6" shows kids what it is like to deal with the death of a loved one in both healthy and unhealthy ways. The character of Hiro perfectly conveys both sides to dealing with death with the help of his friends and Baymax.
Like its predecessor "Frozen," "Big Hero 6" focuses mainly on the bond between siblings. In this case, it is the bond between brothers. Much like sisters could relate to "Frozen," brothers can definitely relate to the story of the Hamada brothers.
In true Disney fashion, "Big Hero 6" is an emotional roller coaster of laughs and tears. Definitely a must see, and bring plenty of tissues with you to the theater.