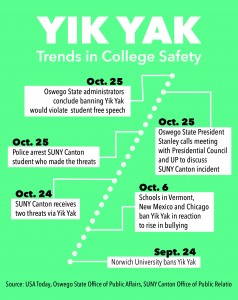 College campuses across the country have banned or considered banning Yik Yak in an effort to deflect the negative effects of the anonymous social media app.
Yik Yak is an anonymous social media app that all posts, called Yaks, can be on any topic which can be viewed and commented on within the near vicinity of a smartphone's GPS-determined location.
On Oct. 6, USA Today reported that schools in Vermont, New Mexico and Chicago have banned Yik Yak in reaction to a rise in bullying. In September, Norwich University in Vermont blocked access to Yik Yak on the college computer network to combat issues raised.
On Oct. 24 a student at SUNY Canton reported two threats to the school via Yik Yak that led the school into lockdown.
According to The Syracuse Post-Standard, it wasn't until a second threat was made that administrators decided to take action.
"The lockdown was enacted due to an abundance of caution, and the entire campus community came together calmly to do what was needed," said Travis Smith, acting director of public relations at SUNY Canton. "Fortunately, we have apprehended the individual allegedly responsible and the college is moving forward."
According to Julie Blissert, the director for the Office of Public Affairs at Oswego State, SUNY sent out a system-wide notification on Thursday to keep other universities informed. The following morning, Oswego State President Deborah Stanley held a meeting to address campus emergency responses, including questions of what the administration knew about the incident and how they would handle a similar situation. University Police Chief John Rossi played an important role in this meeting along with the president's council. Discussion on banning Yik Yak was raised SUNY-wide in response.
At the administration's meeting on Oct. 24, they discussed the possibility of banning Yik Yak on Oswego State's campus. At the end of their discussion, they decided against it, but discussed how they would handle incidents of the same nature.
"We felt that [banning Yik Yak] would be an infringement of freedom of speech," Blissert said. "Yik Yak is just another medium for speech. It doesn't seem right to ban a whole medium because of particular instances of concerning content and it would likely be futile – another would replace it."
Before the incident in SUNY Canton, high schools had already contacted Yik Yak and banned it in the school due to bullying and harassment. Recent incidents have sparked a conversation for many other schools across the nation.
In order to ban the social media site, geological positioning would find the banned location and cancel the program using a tracking system that is referred to as geo-fencing. Because of such technology, the site appears anonymous to viewers but it is not. Yik Yak is able to identify its users.
"We have discussed geo-fencing Yik Yak," Smith said. "At this point, we'd rather use this to educate our students about posting threats to social media."
At SUNY Canton, administrators worked with Yik Yak in identifying the suspect. Alexis Vazquez was arraigned in Plattsburgh. He was charged under U.S. Code Title 18 Chapter 14 Section 875, a law that prohibits the transmission of any communication containing a threat to injure any person or persons, which can result up to five years in federal prison.
On Nov. 4, student, Jordan Crockett was arrested for allegedly making a bomb threat on Yik Yak at SUNY Albany.
Schools have become more aware of the possibility that social media can put their students and faculty in risk of danger. As a result, administrators are prepared to handle these types of incidents.
According to Blissert, any communication that is threatening or disturbing that is brought to the attention of college officials is taken seriously and investigated according to criteria established by law enforcement professionals. The administration has an emergency management plan that addresses many possible scenarios including anonymous threats.
Overall, University Police have stressed to students to be aware of what they post on social media, threatening or non-threatening.
"Using social media is like a fingerprint," Rossi said. "Any electronic communication can be quickly and easily traced by law enforcement using subpoenas and federal resources."