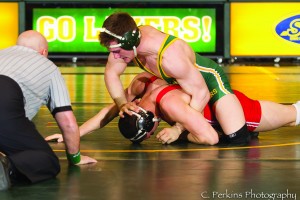 With almost a month of preparation under its belt, the Oswego State wrestling team looks to have a winning season.
The squad is split with the experience of returning members and the incoming freshmen. A small handful of transfers will look to bring their experience in college wrestling to the Lakers.
Head coach Mike Howard said that right now the focus is on getting his team ready for the season and making sure everyone is settling into their weight classes.
"As far as preparing for the start of the year, obviously, we're trying to get guys in the right weight classes," Howard said. "We may start the year with some guys at different weights and hopefully get them down as we go."
Howard hopes to avoid the injuries that plagued his team last season.
"Then we have all the injuries with broken thumbs, three shoulder surgeries… so we had like 10 guys, 12 guys, that had to leave by injury or illness last year that were totally done for the season," Howard said. "That was a hard thing for us to get through and kind of stabilize things, try to get through the season and we got a couple of those guys back and some of them not."
Going into this season Howard has high hopes for his squad.
"I just think with the guys we have coming back, the experience they have and the youth, we should be much better," Howard said. "We still have a tough schedule. We're going to wrestle off some tough competition, we're going to have to rise up to that."
Howard said his weight classes are not set yet and that things will be decided based off the performances at the Ithaca College Invitational on Nov. 7 at Ithaca, N.Y. The Bombers are currently ranked No. 8 in the country, according to the National Wrestling Coaches Association poll from Oct. 23.
Last season, the Lakers placed in fifth out of eight with 93 team points. Senior captain Scott Bova placed third in the tournament for the 184 lbs. weight class and junior Abubakarr Sow won the tournament in the 149 lbs. weight class. Both expect to win this year.
"I'm going to do what I usually do," Sow said. "Make my way to the final and progress, winning one match at a time."
Sow made it to the finals as a freshman, only to lose to teammate Michael Gentilcore in the 141 lbs. weight class.
"We're going down there to get some experience in an early season tournament," Howard said. "We have some guys who want to be successful and win it and that's their individual goals, but as a team we're looking to put out a good, strong performance so we can look at what we need to do as coaches. See what we need to improve on and see where we're lacking and make those adjustments. We've got guys who obviously, like I said, [want to] win the tournament, and we've got guys who are going to get their feet wet in college wrestling and see what they're capable of doing."
Sow and Bova both have high expectations for the season, both looking to take a trip to Hershey, Penn. in March for the NCAA National Championships.
"Right now, they just came out with the rankings and I made it into the top 30," Bova said. "The main goal is to be All-American, be national champ."
Bova said his competition ranked ahead of him are wrestlers he has held his own with, so he is making sure to set a pace for himself in practice that will help keep him competing.
"It's kind of tough now, being a senior, because now it's not about setting the pace for the room or pushing yourself against your teammates," Bova said. "Now, it's about setting yourself against everyone in the nation."
Bova placed fifth at the New York State Championships in 2013 behind Division I opponents Cornell University, SUNY Buffalo, Columbia University and SUNY Binghamton. In his career at Oswego State, Bova holds a record of 34-29.
Sow's outlook on the season is not much different from Bova's, he said he expects this season to be "better than last year."
"My long-term goal is to be a national champ," Sow said. "I'm going to do everything I can to achieve it. It's one goal I've had my whole life, to be a national champion."
While looking at the wall in the wrestling room in Laker Hall's basement that holds the names of previous Lakers to become All-Americans, Sow pointed out two spots left in the last column.
"I see two spaces left, so by the time I graduate I'm going to put my name on both of those," Sow said. Sow holds a record of 38-18 in his collegiate career. The last time the Lakers had an All-American was in 2006 with John Spinner and the last time they had a national champion was in 1984 with Doug Morse.
Howard said to look out for seniors Quamaine Thomas 133 lbs. and Kevin Ramkishun at 125 lbs.; junior James Ronca at 125 lbs.; sophomores Taylor Jones at 141 lbs. and Simon Greebel at 125 lbs. as well as Bova and Sow. Ronca holds a collegiate record of 12-7 and placed fifth at the Ithaca Invitational last year; he did not compete in the 2012-2013 season.
After the tournament in Ithaca, the Lakers will return home to host the Rochester Institute of Technology Tigers on Nov. 14 at 7 p.m. at Max Ziel Gymnasium. Oswego State will host a total of four dual meets this season as well as the annual New York/Pennsylvania Duals in early January. In most recent years the Lakers have not hosted more than three dual meets in a season. Last season the wrestling team went 3-12, gaining wins over King's College in Pennsylvania and two winds over Alfred State College.
"I'm looking forward to it," Howard said. "This is a good group of kids right now. They're working extremely hard. They're committed to what we're trying to do and they're putting forth the effort."