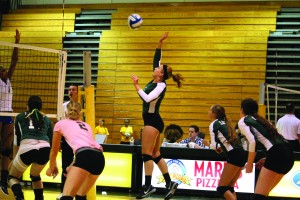 The Oswego State volleyball team built another successful season this year. Coming off a 20-win season last year, the most in a single season in 20 years, there was a lot to live up to. Even with the historic season, the Lakers still missed out on the SUNYAC playoffs because of their 2-7 conference record. This year, Oswego State finished 5-4 in the SUNYAC, enough to earn the No. 5 seed in this weekend's SUNYAC Championships held at SUNY New Paltz.
Comparing last year to this year, the Lakers strength of schedule was built a lot tougher than it was last year. Oswego State started its season on the road in Colorado Springs to face some tough teams out west that included Colorado College, ranked No. 8 nationally at the time.
Head coach J.J. O'Connell, who is in his third season as the head of the program, noted that the tough schedule the Lakers had it has prepared them well for the upcoming playoff tournament.
"Every weekend was a grind. Every weekend was a battle," O'Connell said. "We played a lot of four and five set matches to really prepare ourselves for this type of challenge."
To earn the right to be in the playoff tournament, the Lakers had to pull off a huge victory over SUNY Fredonia on Oct. 25 on the Blue Devils' home court. Oswego State swept the Blue Devils in an impressive victory.
One of the players who made a big impact in the match was junior libero Rachael Ruggaber. She had 26 digs and a 8.67 dig/set average, a season high for her. O'Connell mentioned how important she was to the team in the most crucial game of the season.
"She pretty much took over Fredonia. Everytime they tried to hit cross-court she was eating it up. She had a really great match to get us into the SUNYAC playoffs. If we don't have that defensive anchor, I'm not sure we make it," O'Connell said. "[The] team played well, but she played exceptional in the match."
Ruggaber has played exceptionally all season in her second year on the team. Coming off last season where she had the most digs on the team with 386, she broke out this year with 578, breaking the program record for digs in a single season.
For junior setter Olivia Zimmerman, who is in her first season as a Laker, having Ruggaber as the backbone of the defense has made the team so much stronger.
"Rachael's someone I always can count on back there in the defensive line. She's always picking the ball up," Zimmerman said. "If the ball is deep in the court, I find her back there and she's picking them up. It's awesome to play with her."
Junior outside hitter Kelsey Dillon, the leader in kills on the team this season with 260, revealed that Ruggaber had doubts she would even make the team last year. But, because of her hard work, she has become one of the most important players to the Lakers.
This record-breaking season was something Ruggaber did not plan on having, but she knew she had to raise her level of play after being named one of the captains this season. She also credited getting more chances to being more involved in the gameplay due the implementation of a new strategy by the coaches throughout the season.
"We really talked a lot more about incorporating the defense a lot more instead of treating it as an offensive game, and we've done a lot more work this season on defensive work," Ruggaber said.
Along with Ruggaber, the Lakers have a great group of new players that have made their presence known on the court. That includes Zimmerman, who ended the regular season with the most assists with 510, and Jessica Long, third on the team in kills with 169. These new players' efforts have not gone unnoticed by the team.
"Not only do they come and give a lot of talent, they come and give a lot to the court, personality wise," Ruggaber said. "They're definitely leaders not only in their positions, but on the court also. They come in their first season here and they're really taking leadership positions, scoring and just doing what they need to do."
Another one of those new players is Hannah Dahlgren, who finished with 156 kills, fourth most on the team. Her and middle blocker Stephanie Bailey are the two seniors on the team and both of them are keys when it comes to winning the point.
"We try to get both of them the ball a little more. We know they can both terminate very effectively," O'Connell said. "They're two of our better hitters so we've worked extra hard to get them the ball more often. We know they're looking for it. We know they want to put the ball away."
Bailey has been one of the best players on the team since she arrived four years ago. With 237 kills this season, she has amassed 866 kills over four seasons. Ranking third on the all-time program kill list. For her teammates, she is much more than a top player, but a leader as well.
Now, everyone on the team is getting ready for the Lakers' big playoff matchup on Friday against The College at Brockport Golden Eagles. The Golden Eagles defeated The Lakers back on Sept. 26 on the Lakers' home court. But the Lakers are very confident in the way they are playing lately, as they have gone 6-2 in the final three weeks of the regular season, with two of those wins coming against top 10 ranked teams in the New York Regional Rankings.
"I think we can actually take it all this year. I know we have the talent, it's just whether or not we bring our A game," Zimmerman said. "If everyone's pushing on all cylinders, I think we can definitely beat any team."
If Oswego State does defeat The College at Brockport, it would be a historic win for the Lakers. Oswego State has not won a SUNYAC playoff game since 1994. In O'Connell's first year as head coach in 2012, the Lakers reached the SUNYAC Championships for the first time since 1996. But for players that were on that team two years ago, they feel they are a lot more prepared and ready to earn that win.
"This year is way different. Everybody's been saying it," Dillon said. "It's a 50-50 shot for both us and Brockport, and I know everyone on the team is just hungry for that win."
With a win over the Golden Eagles, the Lakers would be set to go up against No. 1 seed and host of the tournament, the SUNY New Paltz Hawks on Saturday in the SUNYAC semifinals. O'Connell is confident the team can pull off the big upset and do well in the tournament.
"There's no team that really intimidates us anymore. It's not like we're going into this scared or anything. We're going like, 'Hey let's get through Brockport, and then let's really take it to New Paltz on their home floor,'" O'Connell said. "We're looking to make that deep run. We're not backing down from anybody."
That confidence is the source of the win over SUNY Fredonia, with the Blue Devils being the No. 2 seed going into the playoff tournament, Oswego State feels if they play like they did against SUNY Fredonia, it could take down anybody in the conference.
Though the Lakers might have the momentum going into the tournament this weekend, they must remember they will have to keep up the strong play they have had lately in order to defeat The College at Brockport, a team they lost to earlier in the season.
"We struggled with closing out Brockport when we first played them. We were up in three of the four sets, and we ended up losing in four," O'Connell said. "We've gotten a lot better at closing out, and that will be something big against Brockport."
"I just think we're going to have to work this week and not forget what we're fighting for," Ruggaber said.
However this season ends for the Lakers, they can be proud of the way they played with having record-breaking seasons like Ruggaber has had, new players stepping up like Zimmerman and great leadership from the seniors, like Bailey. But with all of that, a SUNYAC Championship is something that would wrap this season up with a big bow on top.