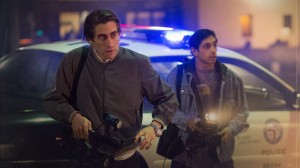 The city shines brightest at night. Likewise, "Nightcrawler" shines brightest in its darkest, most disturbing moments. The film shines its light on the dark underbelly of Los Angeles crime journalism—it is brutal, unflinching and most of all, ratings gold for a local television news station. Lou Bloom, played by Jake Gyllenhaal ("Prisoners"), is down-on-his-luck and desperate. But he's also driven and a little deranged. After witnessing a shocking car accident and the camera crew that responds to the scene, Lou takes on nightcrawling—and it swallows him whole.
"Nightcrawler" shifts and turns throughout its narrative. There's a lot of ways to describe it—neo-noir psychodrama, nail-biting thriller. It even has elements of a lavishly dark, violent comedy. When Bloom is subtly seducing Nina Romina, played by Rene Russo ("Thor: The Dark World"), the news director of the lowest rated news station in the Los Angeles area, it's hard to take in, especially when she seems oddly turned on by his ability to get "the perfect footage." These awkwardly comical scenes oddly enough fit perfectly into the overall narrative and tone of the film.
The film is Dan Gilroy's directorial debut. Having written films like "The Bourne Legacy" and "Real Steel," Gilroy is no stranger to thrillers. "Nightcrawler," however, is a different entity. Gilroy captures a surreal tone. In many ways it's reminiscent of 2011's sleeper-hit "Drive;" cerebral and tonally twisted, with a mysterious main character. Like "Drive," its moody atmosphere is often interrupted by thrilling punches to the gut. Most notably, a brilliant car chase that is a spectacle and has to be experienced first-hand. As a first feature-length effort for Gilroy, it's highly impressive.
The major difference, though, between "Nightcrawler" and "Drive" is that Lou Bloom is much more expressive than the Driver in "Drive." Bloom has a scary confidence he exudes with a sinister grin and glaring, soul-penetrating eyes. He's menacing in a way, like your Hannibal Lecters or Jokers, which is made all the more delightful by the fact it's so unexpected. Gyllenhaal owns the role, having lost over 30 pounds—and any ounce of sanity—to portray Bloom.
As a character, he lacks much likability or backstory, usually a problem. We know he's highly intelligent without being formally educated and that's about it. But the mystery surrounding him makes him all the more appealing. "Nightcrawler" isn't about where Lou Bloom came from—it's about where he's going. And underneath it all is a killer commentary on news media in today's blood-obsessed society. At the end of the day (or night), maybe Bloom isn't even the villain of the story. Perhaps the most sadistic character is the city itself. It comes alive in the night time, and corrupts anyone who dares crawl through it.