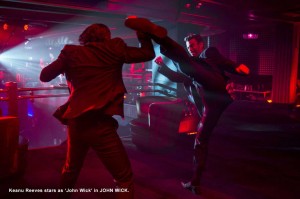 Stunt actors aren't known for much besides, well, stunts. Turns out they do know a thing or two about directing, as shown by the director duo of Chad Stahelski and David Leitch. Experience in fight choreography is evident in their directorial debut film.
"John Wick" stars Keanu Reeves ("The Day the Earth Stood Still") and Swedish actor Michael Nyqvist ("Mission Impossible: Ghost Protocol") as the ex-mob enforcer and titular character John Wick and underground crime boss of New York City Viggo Tarasov, respectively. The films takes place in present day New York City with a few of the beginning scenes set in New Jersey as Wick hunts the criminals he helped create.
The film follows Wick through his days of retirement and grieving for his departed wife who died of a terminal illness, one they had both known of for years and chose not to let keep them from marrying. Mere days after his wife's passing, Wick receives one last letter from her telling him he needs to move on. Along with this letter she sent him a puppy named Daisy.
As Wick tries to come to terms with his new life of retirement alone and begins to gets comfortable with Daisy, a group of Russian delinquents, led by Viggo Tarasov's son Iosef, break into Wick's home to steal his car and in the process, kill his puppy. Iosef is played by Alfie Allen who plays Theon Greyjoy in "Game of Thrones" in much the same way as his character in "Game of Thrones;" a perpetually arrogant individual constantly trying to prove himself, and does really well at eliciting both hatred and pity.
The plot of the movie revolves around Wick getting revenge on Iosef for killing his only remaining ties to a normal life. Wick has literally buried his previous life in hopes that it would never surface, represented by a trunk filled with his personal handguns and stacks of gold coins. As he unearths them from the foundation of his home, the profession he built with them that has been the foundation of his entire life returns as well.
On the surface, "John Wick" seems like just another action movie with no deeper understanding required beyond the visually stunning gun-play. Music and sound remain the tools with the greatest impact, where the film starts with an abrupt crash that grabs your attention right away. High intensity is relayed through pumping electronic music, growing into a chilling frenzy as Wick descends on his enemies.
At every opportunity the scenes and settings look picturesque and sleek, even glamorous in their presentation. The cinematography is clean and active with a variety of shots to keep up the quality of the movie outside of the action segments. The feeling of the movie was that of precise and thoughtful direction and a clear and constant quality in all technical aspects of the film behind the scenes. Even the gunfights and intricate action segments made great use of practical effects.
Despite the pleasant surprise while watching "John Wick," the continual references of him as the "Boogeyman" or "Baba Yaga" throughout were never very impressive and detracted from the established mystery and legacy of Wick. In the same vein, some will continue to cite "John Wick" as another boring performance by Keanu Reeves, though hopefully others see this claim as debatable at least.
"John Wick" is the definition of high quality action movies, retaining the excitement of common shoot-'em-ups while focusing on highly skilled use of choreography that creates a believable film world. "John Wick" knows it's an action movie and takes itself very seriously with its intricate action sequences. Ultimately the film asserts itself as a unique look at the typical action-hero protagonist and covers a lot of ground within the genre while still staying grounded with its target audience.