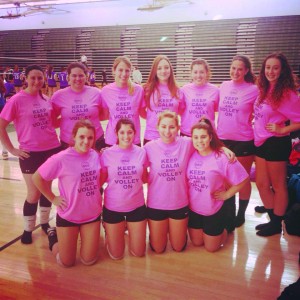 With a roster that has been rather inconsistent in numbers, the Oswego State women's volleyball club has gotten off to a much better start than expected this fall.
Despite a large amount of interested students coming to the first practice of the year, it has been a challenge for the club to keep a steady number as the season has gone on. According to sophomore Marissa Smith, vice president of the club, the team is still in need of more members.
"In the beginning it's big and we have a lot of people come out," Smith said. "But after a while some of them just stop coming."
This is due in large part to the fact that club teams are not allowed to hold tryouts or make cuts. Instead, the club conducts open practices in which they encourage anyone who is interested to come participate. According to the club's president, senior Mary Lenhart, it only takes a small amount of girls to each tournament, but that roster is always subject to change.
"We tell everyone in the beginning that we only take about 10 to 12 girls per tournament," Lenhart said. "It's not always the same girls either, so we tell them to keep their hopes up because we like to change it up to see what works best."
Every fall, the club gets a table at the student involvement fair at which many of its new members sign up. While not nearly everyone that signs up actually plays for the whole year, Lenhart says that they are constantly emailing and staying positive in order to convince girls to keep coming to practices.
Even though Lenhart is technically in charge of the team, she makes sure to consider the opinions of the other upperclassmen when it comes to deciding who makes the roster for each tournament.
"I don't think I should run it alone," Lenhart said. "So I have my vice president and a couple of the other girls make a list of 10 girls that they think should go to the tournament, and then I'll pick and choose between our choices so we pick a team that's fair to everyone."
Oswego State competes in a tournament league against other club teams from around the area. Each school sends a team to whichever tournaments it can sign up for, and the teams that perform the best throughout the year have a chance to play in the sectional tournament.
Although they have only participated in one tournament so far this fall, in which their record was 1-3, the club has already shown progress. According to Lenhart, the team began to work a lot better together during the last couple matches of that tournament and the chemistry has continued ever since.
"We've progressed in the fact that when we play together we play well as a team, and we're friends on the court as well as off the court," Lenhart said. "Last year, it was more of just doing well on the court and we didn't really connect, but we have much more of a connection this year."
As president, it is not only Lenhart's responsibility to make sure everybody else is doing their job correctly, but she also runs the practices. The team has a coach, Kevin Speer, but he typically only serves as an adviser for Lenhart and the other leaders of the team. In order for the team to be able to go to tournaments, a money order must be filled out and sent to the Point, who then sends the check to the league to register Oswego State in the tournament. Being able to coordinate everything that is going on is what Lenhart says is the most challenging part.
"The most difficult part is making sure that everything runs smoothly," Lenhart said. "Making sure that the money for the treasurer is sent in on time, making sure our secretary is talking to the other teams so that we know what time to get to places and when meetings are."
Smith added that finding out ways to please everyone and get everyone involved is what she thinks is the hardest part about running the team. Her role as vice president is to provide Lenhart with support at practice, run practices if she can't be there and anything else that she may need for the club's day-to-day operations.
Regardless of the stress the leaders of the club are faced with, Smith says the friendships she has been able to gain have made it well worth it.
"The best part is you get to meet new people," Smith said. "It's really nice to be able to have different friend groups on campus."
Lenhart added that simply getting to play the game with a group of teammates is her favorite part because she loves the sport of volleyball.
The Oswego State women's volleyball club will play their next tournament on Sunday, Nov. 9, in Buffalo. Lenhart and Smith both expect the team to continue to grow and come together as a team, and they hope to win some more games in the process.
"I actually have high hopes," Smith said. "I think we can do really well so I'm excited, and I know last year we were good but could've been much better, so hopefully this year is different."