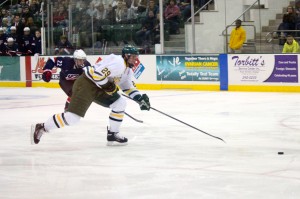 Coming off a surprise victory against the United States Developmental Program under-18 last Saturday night, the night is finally here. It is opening night of the Division III ice hockey season, and Oswego State is at Buffalo State.
The Lakers, returning 24 players from last season's Frozen Four team, are looking to return to the top of the SUNYAC standings after a one-year hiatus, as well as chasing down a third consecutive SUNYAC Championships title.
Tonight's opponent, the Buffalo State Bengals, is a perennial SUNYAC Championships participant, reaching the tournament semifinals last spring. Much of their offensive fire power is back, including the return of the team's 2012-2013 leading scorer Nick Melligan. However, this evening, is the beginning of the answer to the question: Who will replace Kevin Carr in net, and how will he do?
Last season, the Bengals upset the Lakers when the sides met in Buffalo on Jan. 25. Buffalo State's 4-0 shutout victory was the program's first victory over Oswego State.
Now, it is a brand new season and the Lakers are starting the season in the Bengals' barn. Anything can happen.
By the numbers:
1-On Jan. 25, the Bengals picked up their first victory in program history in four-year starter and standout goalie Kevin Carr's final game, and final home game, against Oswego State
6-For six members of the Oswego State roster, tonight is their last regular season opener
8-Eight Lakers on the current roster will remember Buffalo State's Nick Melligan, who returns to the ice tonight
10-Sophomore Matt Galati potted 10 goals on the man advantage during his rookie campaign. He scored one power play goal during last weekend's exhibition, and figures to be one of the team's top threats again this season
Scoring/Special teams breakdown (Statistics reflect 2013-2014 season):
Scoring offense:Oswego State-3.97 goals per game (7th nationally)
Buffalo State: 2.81 goals per game (T-47th nationally)
Scoring defense: Oswego State-2.32 goals allowed per game(14th nationally)
Buffalo State-2.59 goals allowed per game (T-22nd nationally)
Power play:Oswego State-27.27 percent [39 of 143] (6th nationally)
Buffalo State-16.20 percent [23 of 142] (52nd nationally)
Penalty kill:Oswego State-79.40 percent [85 of 107] (T-46th nationally)
Buffalo State-78.70 percent [122 of 155] (53rd nationally)
Goalie matchup (Career statistics): 
Oswego State
Sophomore Matt Zawadzki: (15-3-2, 2.16 GAA, .922 save percentage, 4 SO)
Junior Justin Gilbert: (9-4-0, 2.32 GAA, .910 save percentage, 1 SO)
Buffalo State
Junior Peter Dudek: (0-0-0 [27:46 minutes played], 2.16 GAA, .889 save percentage, 0 SO)
Sophomore Mike DeLaVergne: (0-0-0 [8:02 minutes played in 2012-2013], 0.00 GAA, 1.000 save percentage, 0 SO)
Player to watch: Buffalo State junior forward Nick Melligan: After a year away during the 2013-2014 season, Melligan is back in the Buffalo State lineup and adds a solid offensive threat to the fold. As a sophomore, two years ago, Melligan put up 30 points (13 goals-17 assists) to lead the team. This team does return four of its top five scorers from last year, but none reached the height Melligan did in his breakout season. His return could be just what the offense needs to keep pace with opposing offenses, which will pressure the Bengal defense filled with unknowns.
Prediction: 4-2 Oswego State