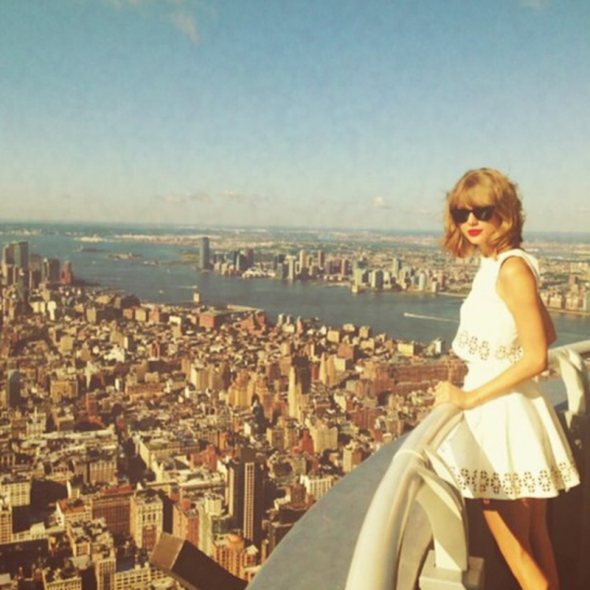 Taylor Swift is back with her fifth studio album "1989."
The 24-year-old, known for her relatable songs of love, heartbreak and friendship, started her career when she was just 14 years old. In 2006, when she was 17, Swift released her first studio album, "Taylor Swift." The third single off the album, "Our Song," made her the youngest person to write and perform a number one song by herself.
Her 2008 studio album, "Fearless," won Swift four Grammys and made her the youngest person ever to win Album of the Year. With 30 million copies of albums sold and about 80 million digital downloads, Taylor Swift is one of the bestselling artists of all time.
"1989," titled after Swift's birth year, was released earlier this week. The album is Swift's turn away from her country background and introduces her new, poppy sound. "On 'Red,' I wanted to try on as many different sounds as I could; on '1989,' it was about figuring out which sound fit and wearing it proudly," Swift said in an interview. Swift collaborated with Max Martin and Shellback, who she previously worked with to produce her last album "Red," along with Fun. guitarist Jack Antonoff and Ryan Tedder, the lead singer of OneRepublic. Within the first 24 hours of the release of "1989," the album became number one on iTunes.
The lead single off the album is the upbeat anthem "Shake It Off." Released on Aug. 18, the song debuted at No. 1 on big name charts. This is Swift's second single to debut at No. 1 and is the 22nd to debut at No. 1 in chart history. "Shake It Off" is written by Swift, Martin and Shellback. The song is all about how Swift has learned to "shake off" what her haters and critics think    of her.
"People will find anything about you, and twist it to where it's weird or wrong or annoying or strange or bad," Swift said in a interview. "You have to not only live your life in spite of people who don't understand you, you have to have more fun than they do." The song features an interesting saxophone backdrop as well as a trumpet. The drum beat is constant and barely changes throughout the song. "Shake It Off" is a fun and catchy song that keeps the audience moving.
The second single, "Blank Space," has not officially been released as a single. It will not be released as a single until Nov. 10. The song was also written by Martin and Shellback. The song has a heavy use of synthesizers. It is a very light and airy song that talks about being in love with a "bad boy" and ending very well. Rumor has it the song was written about Swift's ex-boyfriend and One Direction heartthrob, Harry Styles. Her vocal choices make for an interesting but catchy heartbreak song.
"Welcome to New York" is the first track on the album and introduces the audience to the '80s inspired sound that runs through the album. The song uses heavy synth along with Swift's signature vocals. Written by Swift and Tedder, the song talks about making it to New York and as the cliché, which goes "if you can make it in New York, you can make it anywhere." In a recent interview, Swift said, "Every record, I've tried to challenge myself to make something different."
"1989" introduces Swift's new pop sound that deviates away from her semi-country style. The album is inspired by popular '80s music and definitely shows it. Riddled with catchy and lively songs that get the audience up and dancing, "1989" is a must listen. It's a great album to listen to at any time, whether it's getting ready for a date, studying or dancing around your room like no one's watching.