The Oswego State women's ice hockey team defeated the Toronto Midget Aeros 2-0 in their opening exhibition game for the 2014-2015 season.
The game started off strong for the Lakers, having a clear advantage in time of possession within the first 10 minutes of the game.  They had a multitude of shots on goal and opportunities, but couldn't capitalize. With 11:03 left in the first period, they finally got their break as freshman Andrea Noss scored, with the assist from Alli Ulrich.
"We knew when we landed her that she was going to be a force," head coach Diane Dillon said about Andrea Noss.
A force she was. Noss scored both goals for Lakers today, in her first ever collegiate game.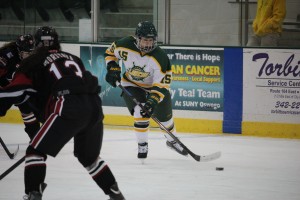 "It was a relief," Noss said, "It was relief because my teammates and I were working so hard to score, and it finally paid off to get the goal."
Captain Lizzy Marks shared the excitement for her teammate.
"It was great for her to score in her first game," Marks said. "We're so proud of her."
Noss' second goal came on a power play late in the third period that all but sealed the win for the Lakers. Noss spoke highly of the atmosphere with her teammates before the game.
Although it was only an exhibition game, Noss said the morale was "very positive."
The team played with tremendous effort and hustle, giving themselves many second chance shots, which led to them getting off a total of 31 shots. However, only two goals on 31 shots raises some area of concern to coach Dillon.
"There were nerves, hands on sticks were tight," Dillon said. "I think a lot of it too was that a lot of those shots were in tight, there's not a lot of room to work. It's one of our things we're working on this year: shoot to score. Obviously on 31 shots we need better than two goals."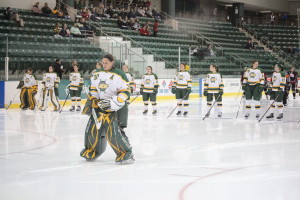 Senior Bridget Smith, who started the first period at goal held the Midget Aeros scoreless, with nine saves.
Captain Tori Trovato entered the game in the second period and recorded a total of six saves.
"She only faced six shots, but four of those were very tough shots," Dillon said of her captain. "We had some mental breakdowns and our defense was getting tired."
Many of her saves came in a one-on-one situation and her skills were no match for the opponent.
The Midget Aeros controlled the puck in the second period, and kept the defense busy. However, the Lakers made big plays when needed and were able to keep them scoreless again.
Asked about whether she has content with the effort of her team, Dillon said "Absolutely. You never quit on a puck, and I was most impressed with our back-checking. Our forwards did a great job of coming back hard to the net to disrupt their timing and make sure that our defense can step up. That kind of tenacity is what we need."
Dillon was candid in saying that there was room for improvement.
"I think our passing was suspect," Dillon said. "We gave up a lot of opportunities just because we couldn't pass the puck."
The Laker's first regular season game begins Friday Oct. 31 at Castleton State College. They have their home opener against SUNY Cortland on Nov. 7 at 7 p.m. to open ECAC West play.