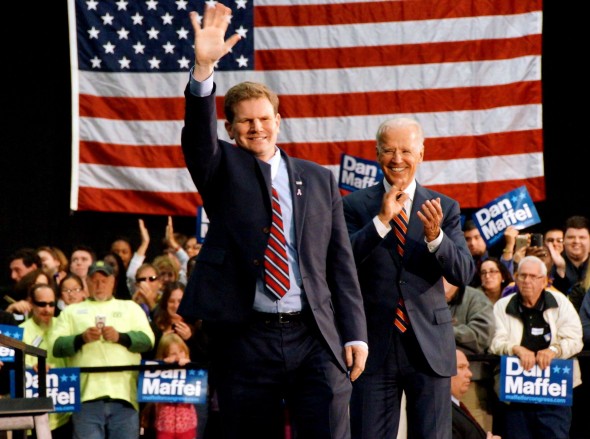 Several members of the U.S. executive and legislative branches have recently visited Central New York to support the candidates for New York's 24th congressional district.
Vice President Joe Biden flew into Syracuse Hancock International Airport and spoke to the crowd, telling them to vote for incumbent Democratic candidate Rep. Dan Maffei. Maffei is running a close race against Republican challenger John Katko.
In his own speech to the crowd, Maffei talked about themes, such as mudslinging in the political commercials in the last few weeks.
Both Maffei and Biden held an emphasis on the middle class and stressed its importance to strengthening the economy.
"The way to get our economy moving again, here in Central New York is to invest in the middle class," Maffei said.
According to Maffei's website, this is the third time the vice president has made an appearance in Syracuse since summer. Biden graduated from Syracuse University School of Law in 1968 so he is not new to the area or Congressman Maffei, who he referred to as his friend.
"Dan is a son of Central New York," Biden said. "The first time I met Dan, he and I agreed that the central challenge of our time, his and in mine and the Congress in Washington right now, is how to restore the middle class."
Biden went on to emphasize the race for the 24th congressional district is an important election because of the middle class.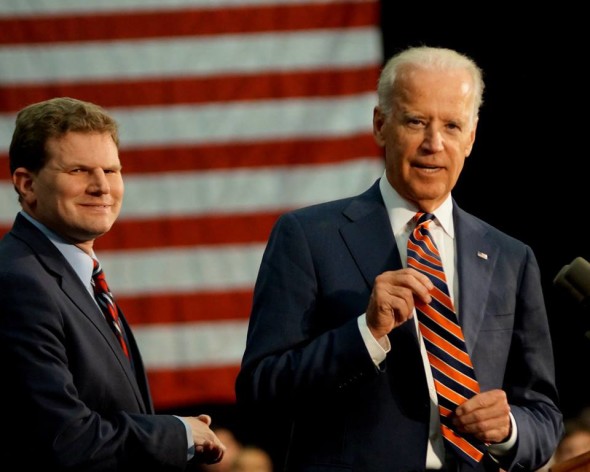 "Let me put this in perspective on why this race, right here in Syracuse, in this district, why it's so important," Biden said. "Now it's true, everyone knows Dan and I are personal friends, but it goes way beyond our friendship. It goes way beyond our friendship. We got clobbered in The Great Recession. We call it The Great Recession because it's the worst recession short of The Depression in the history of the United States of America. A lot of innocent people got crushed. They did nothing wrong. They never missed a mortgage payment. You busted your neck your whole life and you look down, and all of a sudden your house is under water. You owed more on it than what it was worth. You did nothing wrong. You showed up one day to work after the last five, 10, 20, 25 years, every year of your yearly evaluation getting an evaluation as a great employee, and they said 'give me your key, give me your code, give me your computer access.' We're moving abroad or we're closed. You've seen it up here."
Last month, House of Representatives Speaker John Boehner, R-Ohio came to the district to headline a fundraiser for Katko's campaign. In August, National Republican Congressional Committee Chairman Greg Walden stopped in Syracuse for a fundraiser as well. A day before Biden's appearance in Syracuse, House Majority Leader Kevin McCarthy visited Auburn and spoke to Katko and reporters there.
Katko did not respond to requests for comment on Biden's visit or the number of national names visiting Central New York.
"It's competitive for three reasons," said Grant Davis Reeher, a political science professor at Syracuse University. "First, demographics and party registration in the district. There are both Democratic and Republican strength areas. It's a swing district, versus a clearly blue or red one. More generally, the political culture tends toward the center in Central New York. Second, it had been held for a long time by one member, and that member retired in 2008, creating an open seat. These seats are always more competitive, all other things equal. No one has yet established themselves in the seat so far. That leads to the third reason. The present incumbent, Dan Maffei, is perceived by the Republican Party as beatable, which means that higher quality challengers are likely to come forward, and the race is given more attention and money by the national and state party organizations."
The district has gone through a period of party switches in the last few years. Maffei first won the seat in 2008, which was then the 25th congressional district, the first Democrat to win that district since 1965. He was unseated in 2010 by Republican Ann Marie Buerkle. Maffei won back the seat in a rematch election with Buerkle in 2012.
The Maffei campaign announced former President Bill Clinton will be in Syracuse next week, also to endorse the Democratic candidate.
"They [candidates] want to communicate a few things," Reeher said. "First, by someone big coming out to Syracuse to help them, they want to communicate that they are important enough to get that kind of attention. Second, they are hoping that the visitor will be popular, especially with their base voters, and by association, raise their own popularity."
The latest Siena College poll conducted in September showed Maffei with an 8-point lead over Katko, but many have argued the race has tightened since that time.
The midterm election will be Nov. 4.