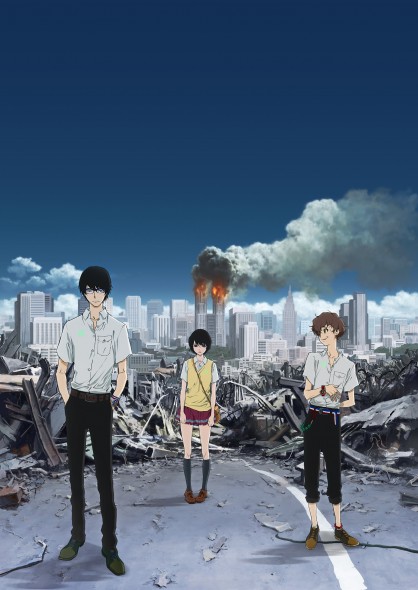 From space cowboys to modern samurai, we've all seen our fair share of both weird, yet strangely engaging anime series. This one in particular though, takes on a rather controversial topic.
From the famed director of critically acclaimed anime series "Cowboy Bebop" and "Samurai Champloo," Shinichiro Watanabe, comes "Zankyou no Terror," otherwise known as "Terror in Resonance." As expected from the likes of Watanabe, "Terror" is particularly odd; as you've probably deduced from the title, the anime takes on the literal concept of terrorism, but adds a weird twist to it.
"Terror in Resonance" depicts an alternate iteration of present day Tokyo as it is devastated by a terrorist attack. Literally, the only evidence behind this is a video that was uploaded on the Internet hours before by the supposed culprits. These individuals, referring to themselves as "Sphinx," take the city by the neck as they use Japan as a chessboard to play this grandiose game of destruction. Baffled, the Japanese are left speechless as Sphinx, as unknown and mysterious as they are, continue to spread fear and paranoia as they utilize destructive tactics to their own gain.
In "Terror in Resonance," the "antagonists;" the masterminds behind the attacks, and the individuals referring to themselves as Sphinx, happen to be two extremely intelligent teenage boys going by the names of Nine and Twelve. Operating as Sphinx, they steal illegal plutonium from a nuclear processing plant during a snowstorm, leaving the message "VON" on the grounds of the facility. Half a year later, a video is posted online stating that "Tokyo will be enveloped in darkness after 3 p.m., and large sparks will fly, scattered around the Shinjuku area."
Initially taken as a joke by most, the video is written off; that is, until a government office building in Shinjuku, Japan is destroyed by well-placed explosive material. From there, the race begins as Sphinx and Tokyo's entire police department duke it out in a battle of cat and mouse that will have the entire country at stake.
Terrorism is naturally a controversial subject in the Western world. There are few, if any programs on American television that would depict anything resembling a terrorist attack at all. So for a Japanese television series to not only depict terrorist attacks, but place it in modern-day Japan is odd, but it can definitely pique the curiosity of one willing to see how it is handled. Sphinx literally operates like a modern-day terrorist organization. Utilizing destructive devices, computer programs such as TOR, cellphone detonators and    much more.
It's funny, despite the context, that the individuals behind Sphinx, Nine and Twelve,  teenage geniuses; are still the main characters of this show. Think about it. They're technically the villains, but at the same time, not so much. Feel free to throw your personal morality out the window, because the guys you technically shouldn't root for are actually in the driver's seat this time around. "Terror in Resonance" is full of oddities but even so, this is a very welcome change of pace on Watanabe's part; with anarchic protagonists differentiating "Terror" from other anime.
It doesn't stop there. To add to this, although Sphinx commits these acts of mass destruction, they also effectively go out of their way to ensure that people are not harmed. Perhaps demonstrating good intentions? It's definitely as weird as it gets for terrorists. The concepts of "good" and "evil" take a backseat here, as the reasons behind this odd agenda, fueled by an even odder set of main characters, get more and more mysterious as the series progresses.
Take this backward logic, throw in some gorgeous tracks by musical composer Yoko Kanno (who also composed "Cowboy Bebop's" soundtrack), beautiful and breathtaking visuals, and there you have "Terror in Resonance." A beautiful modern-day take on (albeit, inherently bad) something that's prescient/relevant. Even if you're not an anime fan, Watanabe's work should not be ignored. "Terror in Resonance" is a short 11-episode program that is sure to keep you interested to the very end.