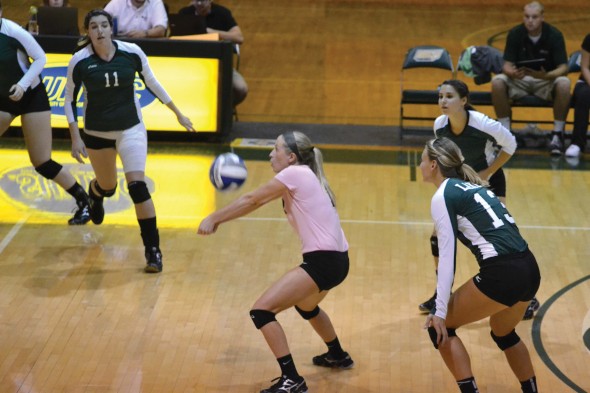 For too long, defense has been overlooked in the game of volleyball. The success of a volleyball team has often been attributed to the team's top scorers, and while the scorers are responsible for putting the points on the board, scoring is only half of the game.
The Oswego State volleyball team, and its defensive specialist Rachael Ruggaber, are a perfect example of this. Ruggaber, a junior from Liverpool has solidified her role as the defensive anchor of the Lakers. An integral part of a team that won 20 games last year, Ruggaber has done nothing but transform into an even better player this season.
Specifically, Ruggaber plays the libero position, or "defensive specialist." As the libero, Ruggaber wears a different color jersey from the rest of the team, but you would be hard pressed to miss Ruggaber, even if she were donning the Lakers green and gold. Despite being one of the shortest players on the team, Ruggaber finds a way to involve herself in just about every play on the Lakers' defensive end. Ruggaber's 3.82 digs per set was good enough for ninth place in the SUNYAC last season, but this year she has taken her game to a whole new level, averaging 4.97 digs per set.
Head coach J.J. O'Connell has certainly taken notice of Ruggaber's growth this season.
"I think she [Ruggaber] understands the areas that she needs to cover, a little bit more," O'Connell said. "She's also getting better at reading what the hitters are wanting to do to her. The combination of being more comfortable in left back, as well as being able to analyze a little bit better, has really helped her out this year."
Ruggaber's development and determination on the hardwood has not only improved her game this year, but has become contagious with the rest of the team. Kelsey Dillon, who has forged an impressive season herself, is just one of the many players to benefit from Ruggaber's hustle.
"Whenever she is on the court, it just gives everybody a sense of a comfort," Dillon said. "If I'm going for a ball and I can't get it, I'll just assume it's going to fall to the ground and, all, of a sudden, Rachel will just pop up with a perfect dig to the center."
Ruggaber's game is gritty, which is how any defensive specialist should play, but Ruggaber's durable mental game is also a key to manning the libero position.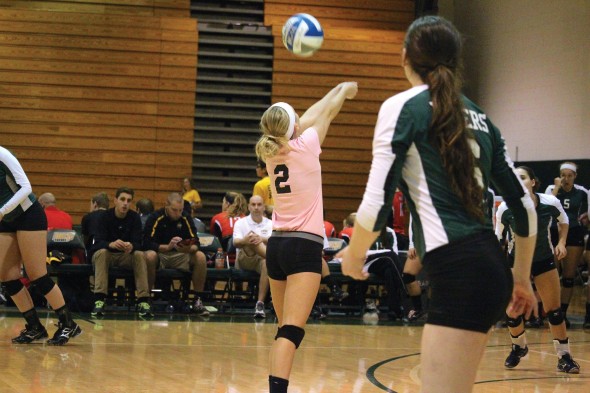 "I have to tell myself constantly, 'You need to get everything. As soon as you see the ball, you're making your way toward that position, no matter where it is," Ruggaber said.
Ruggaber also acknowledges that a defensive player like herself may not receive the recognition of other players, but ultimately the goal is to win as a team.
"I know that we can't win without each other, we're always hanging on each others backs for support," Ruggaber said. "If I make a good pass, it's up to them to make a good kill. So it really doesn't bother me too much."
Ruggaber may not serve herself compliments concerning her value to the team, but Dillon was quick to award Ruggaber the recognition she deserves.
"She definitely gets overlooked," Dillon said. "If we don't have a solid defensive game that we can depend on, then we don't have a strong offensive play. The whole team definitely does appreciate what she does, because she does put in a lot of work for this team."
This Lakers team, as a whole, may not look too different from the one that took the court last year, but Ruggaber sees the differences.
"I think we have a lot better chemistry this year," Ruggaber said. "I think we should be doing better than we did last year, but we have a tough schedule, and I definitely think the chemistry has improved this season."
Ruggaber can be heavily credited with being a spark on the defensive end, but she admits that she still has the desire to be a scorer for this Lakers team.
"I still want to be up there spiking the ball at the front of the net, I'm just not tall enough," Ruggaber said. "But I love defense, when I was younger it was always fun for me to go to camps, and have these huge players hit the ball as hard as they can at you. It's awesome seeing all of those kills, and I'd like to be a game-changer, but I think playing defense is what I was supposed to do."
Whether Ruggaber admits it or not, she certainly is a game-changer for these Oswego State Lakers.
Sitting at 13-12, the Lakers will need a strong finish to gain ground in the difficult SUNYAC conference. Maintaining a strong mindset, something Ruggaber does so well, is what she points out as the team's biggest key going forward.
"If we lose a game, we need to be able to flip our emotions right away," Ruggaber said. "We're so close in every game, we haven't been beat by a bad score yet."
Prior to their losses against SUNY Oneonta and SUNY Cortland last weekend, the Lakers had won five matches in a row. The team now enters a weekend in which it faces all non-conference opponents, before three conference games and a non-conference finale on senior day to conclude the regular season. If the Lakers are going to make a run in the SUNYAC, which they fully expect to do, Ruggaber is going to be a key piece.
An ultimate team player, Ruggaber embraces a position where she can lead the team, and receive very little fanfare. Defense will always be overlooked in a game where the most important numbers are the ones on the scoreboard, but for Ruggaber all that truly matters is a letter, a "W."