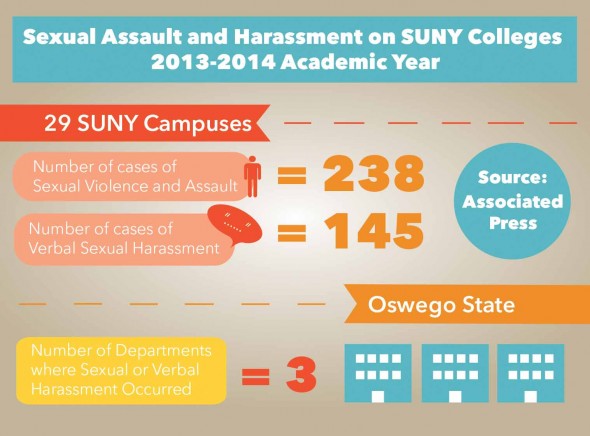 Campus sexual violence and harassment is on a rising trend throughout SUNY campuses.
According to a study by the Associated Press, 29 SUNY campuses, excluding community colleges, were required, under a voluntary agreement with the U.S. Department of Education's Office of Civil Rights, to participate in this study.  In the report, Oswego State was identified having three different departments where sexual harassment or discrimination was occurring.
The agreement requires SUNY campuses to conduct annual "climate checks" through 2016. This will determine whether anti-assault policies are working. The AP showed that 238 cases of sexual violence and assault and 145 cases of verbal sexual harassment occurred during the 2013-2014 academic year at the state-run campuses.
At this time, the three departments where sexual harassment or discrimination happened at Oswego State are not being identified. According to the Office of Public Affairs, none of the departments were academic.
Students find this information alarming and feel they have the right to know more about the incidents, including which departments the sexual harassment was occurring. Junior Rachel Castellani feels as though she's not receiving all the information that she should.
"I think that if there are assaults in three different departments, that the school should be open about them and share them with the student body," Castellani said. "I'm not talking about sharing the details of the assault, but I do feel as though the school should just share that an assault has occurred, and then they could inform the students on how to prevent being a victim."
According to Director of Public Affairs Julie Blissert, the specific departments are not being identified other than none of them were academic departments.
"We did not want to focus undue attention on people who may or may not have been involved in the incidents," Blissert said.
Students understand that some things need to be kept confidential but, at the same time, they feel that they have a right to know more than what is being made public.
"I understand that the school would want to withhold some information about sexual assaults in order to protect the victims," Castellani said. "But still addressing the incidents and being open about the different departments is so important."
According to the Office of Public Affairs, SUNY campuses were not given a set definition of "pattern" by SUNY or the Office of Civil Rights. Each campus came up with their own pattern being a number of offenses deemed abnormal.  At Oswego, the Title IX committee decided that a pattern of three or more reports during the year presented a problem.
"Three or more in a year within a department seemed to us excessive," Title IX Coordinator Lisa Evaneski said. "As we talked it through in the abstract, and something we thought we should and could address with additional training. As we work with this definition, we may look to see how other campuses are approaching it and if there might be a better one. It might make sense for all campuses to use the same definition."
Title IX is the federal anti-discrimination law that states "no person in the U.S. shall, on the basis of sex, be excluded from participation in, be denied the benefits of, or be subjected to discrimination under an educational program or activity receiving federal financial assistance," according to 1972 Education Amendments.
"For each of the three departments, there were three reports, just crossing the line into pattern," Blissert said. "None of those nine reports involved physical contact. They all concerned communication, for example, using vulgar, sexually charged language referring to body parts or sexual acts that made someone uncomfortable enough to report it. They all involved peer-to-peer behavior such as student-to-student or employee-to-employee. The college responded to the findings by conducting additional training and education about sex discrimination for people in those departments."
Trends in sexual assault at colleges are being reported at an alarming rate across the country.