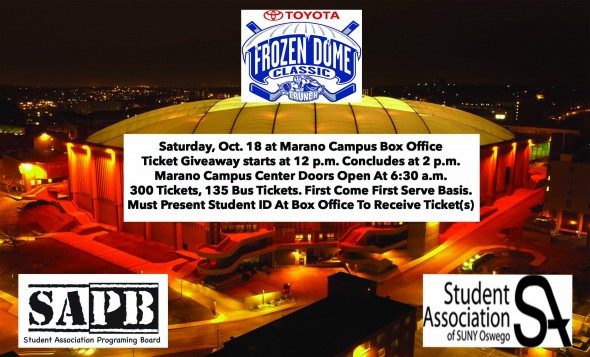 On Saturday Oct. 18, the Student Association and the Student Association Programming Board are sponsoring 300 game tickets and 135 bus transportation tickets to the Oswego State men's ice hockey game against the Utica College Pioneers.
The game takes place on Nov. 22 in the Carrier Dome on the Syracuse University campus at 3 p.m. This is being paid for by the Student Association Fee. Only SUNY Oswego undergraduate students who have paid the SA fee are eligible to receive these free game tickets and bus tickets.
This whole idea was created by Student Association President Tucker Sholtes.
"It's an idea that I was thinking about last semester when we first got word there was going to be this game," Sholtes said. "Way back then I was just thinking it was a pipe dream of mine, wouldn't it be awesome if we could somehow give people the ability to get free tickets?  Students are so use to getting their free tickets for all of the home games. How great would it be if we could extend that, so not only would students feel welcome to have a free ticket to our home games, but also inviting them to get a free ticket for this really exciting time?"
Sholtes then brought the idea to the Student Association Programming Board. Bryan Ruderman, Director of SAPB, commented on what his first reaction was to the idea.
"When Tucker came to me with the idea, I thought it was really good," Ruderman said. "I think it's a really cool thing for students to go and represent their college."
The event started to come to fruition after SAPB decided that there was no longer going to be a fall concert. Ruderman explained why there was not going to be a fall concert and how this Carrier Dome game event was not going to affect it anyway.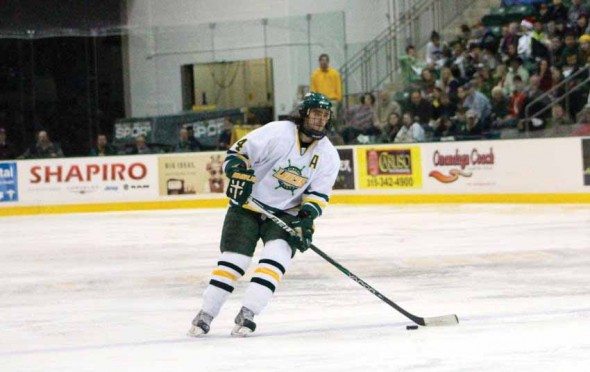 "Due to Hewitt Union being under renovation, there was no place for the concert to be there and the risk of having a concert outside, if it rains, we lose all this money. So the risk was too high to have a fall concert," Ruderman said. "I think this event in its place is actually a great idea, especially because students wanted one large concert at the end of the year rather than the fall concert."
SAPB found out that students would rather have one large concert than two small ones through a campus wide survey. The large concert is set for the end of the school year, as an alternative to Bridge Street Run.
Now, though many will be excited for this event for the Carrier Dome game, there will be some who would rather see another concert. Sholtes explained how this event is a great way to provide a great experience for students, while also saying that there will be some possible future events for music-lovers as well.
"I think it's a good opportunity for us to tread in some new waters, explore some things that have never really been done before," Sholtes said. "As far as I know there has never really been any kind of bus trip like this. I think it's a unique circumstance. It's not every day you hear you'll be playing at the dome in syracuse in front of 30,000 people there. But I do understand that there are going to be some students that wish there was that fall concert and SAPB is looking toward having additional programing for this semester but, as of right now, this is the big thing they have on the book. Since this is all planned out, they'll have a lot of semester left to work on more events. So there are some ideas in the works, this is definitely not the only thing that they plan on having planned for this semester."
Ruderman also said how this event, though it took some hard work to put together, was able to be created because of the athletic department
"Logistically it wasn't too difficult, SAPB had to put up a good amount of money to buy these tickets from the box office," Ruderman said. "The difficult part was transportation, obviously not every student has a car, however the athletic department on campus is providing three buses to bring students, so we get 135 students to have free transportation to the event."
SAPB took $7,000 out of its collaborative programming account to provide the money for this event.
Now, for the game, this is something that the men's ice hockey team is excited to be a part of. Head coach Ed Gosek talked about how this game is something that the Lakers have been hoping to be a part for a while now.
"It's been a work of progress, it's been two or three years where we have been going back and forth. The interest was there, the idea of inviting us has been there for quite sometime," Gosek said. "We're grateful they invited us to be part of it."
The Syracuse Crunch, an American Hockey League team, will be hosting the event. The Crunch will be playing an AHL opponent, the Utica Comets. The Crunch decided to invite the Lakers and the Pioneers to play a game earlier in the day to be a part of the event. Gosek realized how special it was to choose the two Division III schools.
"It's a great opportunity that they asked us. They could have easily asked Cornell or Colgate, right down the street, Division I programs," Gosek said. "We feel very honored and we're very appreciative."
For the players, it will definitely be something new. Senior captain Bobby Gertsakis mentioned why he is looking forward to the game.
"It's definitely a different experience. My dad called it the outdoor-indoor game," Gertsakis said. "It's going to be cooler than a couple other games I've ever played in. Hopefully it's kind of like the Whiteout atmosphere. I know we're going to have a lot of fans, which is nice."
Those fans will be a big presence at the game, especially now with this event to get even more students to the game. Sophomore goalie Matt Zawadzki knows the great fan base the team has behind them and how it looks forward to playing in front of them in a big atmosphere.
"We have a great student base, but we also have a great community supporting. Having them around us has helped us on the road and at home in our rink," Zawadzki said. "We just want to go out there and play like we have every other game and give the fans and us the result we want, in the Carrier Dome, or not."
One thing for sure is that the team can surely be happy the school is behind it when it comes to supporting it for this event. Gosek talked about how pleased he is with the support the school gives, and how this event is a great way to honor the fans continued support.
"I know the SA has done a great job with helping promote it, our alumni association, our student council, the president, our athletic director, everyone involved. Our school wants to just provide a good experience and help our students get there," Gosek said. "I think it will be a fun event and something to further their school pride. I think this an opportunity for our loyal fans to be rewarded with a little special perk and a little special game."
With this also being a celebratory game, it is also a very busy time in the schedule for the Lakers. Oswego State will be playing at home the night before the Carrier Dome game on Friday, Nov. 21 against the College at Brockport and then will be playing a game against defending SUNYAC regular season champions, SUNY Geneseo, at home on Tuesday, Nov. 25.
Gosek knows that even though this is going to be a fun event, he is hoping his team will stay focused and learn from this five-day period where the Lakers play three games.
"We'll be coming off of short rest," Gosek said. "Traveling down there and then the turnaround with Geneseo back here on Tuesday night. You got three critical games in a very short period of time. I'm hoping that we can use this as a lesson for our guys on how to avoid the distractions; how to manage those distractions. So that hopefully it will prove beneficial to us later in the season."
Since this is such a special event, every player is going to want to suit up for the game. Zawadzki mentioned the team's mood on the game and how they feel like they will be prepared for it.
"We're all looking forward to it. We all want to play," Zawadzki said. "I want the start, obviously, and that's the goal to work for that, but I think as a team we'll be ready for a game like that. It's an exciting atmosphere and we, and the fans, can enjoy that."
This feeling is also the same for the new players on the roster. Freshman forward Mitchell Herlihey gave his input on the game and what he expects from it.
"I have a little nerves, I hope I can crack the roster. But it's going to be a new thing for mostly everyone on both teams," Herlihey said. "It's going to be interesting to see how the teams prepare for it, but I think a game like that, with such an atmosphere, adrenaline is going to kick in and you are just going to go out there and play hockey."
For the the issuing of tickets to the game, Ruderman mentioned on how this is setting up to all parties involved.
"The overall attitude of students will be a little higher going into the break. Everyone's getting excited to leave, now they have another thing to be excited for. I think for the hockey team, its going to feel this great boost in their fans because it is going to see, as long as all our tickets get sold, at least 300 students rocking their Oswego gear, pumping up the Carrier Dome for Oswego," Ruderman said. "I think the hockey team is going to benefit, the students are going to benefit in a great time before they go off to break. It gets everyone in a better mood and happier mood for their college."
It is all about showing school spirit for this game, which the school hopes to see when people line up on Oct. 18. The tickets will be available beginning at 12 p.m. at the Marano Campus Center Box Office and concluding at 2 p.m. The Marano Campus Center will open its doors at 6:30 a.m. All tickets will be issued on a first come first served basis. Bus tickets will be issued at the same time with the game tickets. Students must present their Student ID to receive the tickets.
Additional game tickets will available for purchase at the Marano Campus Center Box Office for a reduced fee of $18.50. All game ticket sales will conclude by 12 p.m. on Friday, Oct. 31, 2014.