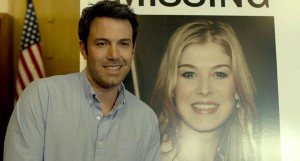 "Gone Girl," the latest film from director David Fincher ("The Girl with the Dragon Tattoo") is a tough film to write about, both because of its complexities and its surprises. Without spoiling anything, the film, based on Gillian Flynn's novel of the same name, is a deconstruction of the typical murder-mystery thriller, as only Fincher could achieve.
Audiences will have a wide assortment of reactions to "Gone Girl" and all of its twisting, maniacal ways. It's a mystery-thriller with an odd dash of dark humor; it's a psychological drama in the weirdest sense. Its twists and turns are only made more brutal and shocking and thought-provoking by the audience's emotional connection to the fragile institution of marriage.
When Nick Dunne's (Ben Affleck, "Argo") wife, Amy Dunne (Rosamund Pike, "The World's End"), goes missing one day, he is dragged into a media circus and police investigation. What sets the film apart from others in its genre is its narrative style, told in many ways through flashbacks and narration. Few films pack such a psychological punch with so much deception.
Films like "Shutter Island" can keep the secret from you and then unpack it all in the very end, laying bits and pieces for the audience as clues throughout. But "Gone Girl" will leave you thinking long after its conclusion. And even after the mystery is solved, it's hard not to think about what's true and what's false.
The film can be brutally self-aware at times, made more noticeable at its mid-point. "Brutally" because the film punches you in the face with its themes and questions of marriage, male superiority and resentment, and "womanly" duties. These things don't come to fruition until it's realized that not everything is as cut-and-dry as the media and law enforcement wish it to be. On its surface, "Gone Girl" may be a mystery-thriller, but at its core it is a love story in the most twisted sense.
Fincher has taken on crime thrillers before—"Se7en," "Zodiac," "The Girl with the Dragon Tattoo"—but none as mentally deceptive as this. "Fight Club" comes to mind, but as far as his crime dramas go, Fincher pulled out everything in his arsenal for "Gone Girl," thanks in large part to Flynn, who also wrote the screenplay. Their vision, though, is captured brilliantly by a surprising cast.
Affleck is cold as ice in his portrayal of Nick, as he should be. Pike is a powerhouse in her performance. Saying more would ruin it. Neil Patrick Harris ("A Million Ways to Die in the West") and Tyler Perry ("The Single Moms Club") are the most surprising, stepping out of their comfort zones as a wealthy stalker and a brilliant lawyer, respectively. They elevate the principal cast with supporting performances that they nail.
"Gone Girl" is a wonderful deconstruction of love and marriage, the glue that holds them together and the ways it can all be torn down; it's a dissection of the responsibilities and view of men and women in society and the media. When all is said and done, "Gone Girl" answers its questions, but it also leaves you wondering who's the real bad guy here. Maybe that's the point. Maybe there isn't one. Maybe we're all just crazy.