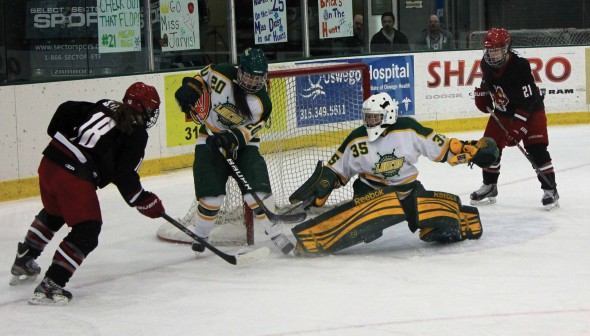 With campus construction underway for the fall semester, the men's and women's ice hockey teams have had to get creative with scheduling practices.
For the first time since it was built in 1965, Tyler Hall at Oswego State is undergoing major renovations. These renovations, which will total up to over $22 million, will improve the quality of the Waterman Theatre, the Art Gallery, and environmentally friendly heating, cooling and ventilation systems, among other changes.
Having begun over the summer and with work still currently happening, it has been an adjustment period for all events that were supposed to take place in Tyler Hall. Some events, including the 10th annual Lewis B. O'Donnell Media Summit, have been moved to the Marano Campus Center Arena, where the men's and women's ice hockey teams practice and play.
Head Coach Ed Gosek understands and thinks his team can adjust.
"In the big picture of things, the events that the college has been holding here, along with some of the construction projects, there's nothing you can do about it," Gosek said. "It's out of our control, and we try and worry about what we can control, which is making sure that guys can get themselves in the best shape they can."
Because of these restrictions, both of the ice hockey teams have been forced to hold their captain's practices in other areas.
That is a lot of responsibility for some players, but for senior captain Bobby Gertsakis, he is just happy to be back on the ice he has known so well.
"It's my last year, so I'm trying to soak up as much as I can in this arena," Gertsakis said. "It's obviously a lot better when you're on your home ice."
Within the last couple weeks, the men's team has had practices in Cicero and Baldwinsville, both about 45 minutes away from campus.
"We were only getting an hour or so there, it wasn't as much time as we wanted. When we could, we would just skate here." Gertsakis said.
He also mentioned how the practice time had to be adjusted due to the time it took for players to travel.
Gertsakis made it his responsibility to make sure that other players were staying in shape during the offseason, along with the other team captains.
"We (the captains) have been running workout groups," Gertsakis said. "We couldn't treat this situation as an excuse. Just because we can't skate here doesn't mean we can't get in shape."
Gosek was very optimistic of the offseason program.
"They've got their groups for weight training and conditioning, and at this point you hope that they've maintained what they've done over the summer," Gosek said. "The three captains have been very good with us as far as communication, community service, academics, and other things are team does with the community. They've done a great job, it's a learning process for them too. The responsibility of the leadership role adds up."
The same goes for the women's squad as well, led by junior goalie and captain Tori Trovato, who has also held the responsibility of running offseason practices.
"We had a couple in Syracuse, but it was such a long haul," Trovato said. "Mostly we were over at Laker Hall. The practices were about two hours, but we gave the girls about half an hour at the end to just practice their shots."
Similar to Gertsakis, Trovato was ecstatic to be back on the ice.
"We're so excited," Trovato said. "It stinks that they have to put the carpet back on for next week, but it just feels great."
Trovato follows the same routine as Gertsakis, teaching teammates to focus on self-conditioning whenever possible.
"We really stress training on your own, since it's so different conditioning on and off the ice," Trovato said.
Freshman Olivia Ellis spoke highly of Trovato and the other captains, and their efforts.
"Although the offseason has been nerve-racking, they've been great and really stress hard work," Ellis said.
The Lewis B. O'Donnell Media Summit will take place on October 16th at 2:30 p.m. at the Marano Campus Center Arena, pushing the first practice to the following Monday.
"We'll have five days," Gosek said. "We start Monday, Oct. 20 at 6:30 in the morning. We'll skate in the morning, and then again in the afternoon."
Diane Dillon, head coach of the women's team, said that they will be sharing the arena with the men's team, and alternating practices times.
Gosek also talked about the rigorous testing that the players would go through.
"They have an off-ice conditioning test, a strength test, then they have a core strength test. It's going to be a heck of a week for them," Gosek said.
Both teams year begin on, Oct. 25. The women start off with an exhibition game against the Toronto Midget Aeros at 3 p.m. at the Marano Campus Center Arena, followed by the men's game against the U.S. National Under-18 team at 7 p.m.
Then the women play a pair of non-conference matchups on Oct. 31 and Nov. 1 at Castleton State College and New England College, not begining ECAC West Conference play until, Nov. 7, home against Cortland.
The men also go on the road after the exhibition, but start their SUNYAC Conference play right away, facing off against Buffalo State and SUNY Fredonia. Their first conference home game is, Nov. 8, against Suny Cortland.
The women look to build on a strong season in which they finished 17-9-1, and made it to the ECAC West Semifinal against SUNY Plattsburgh.
The men look to emulate last year's regular season success, finishing 22-7-2, and look to make it to a sixth straight Division III Frozen Four.
"We have to kick it into high gear," Gertsakis said, "Right now we have to soak up as much as we can, and we're using our time wisely."