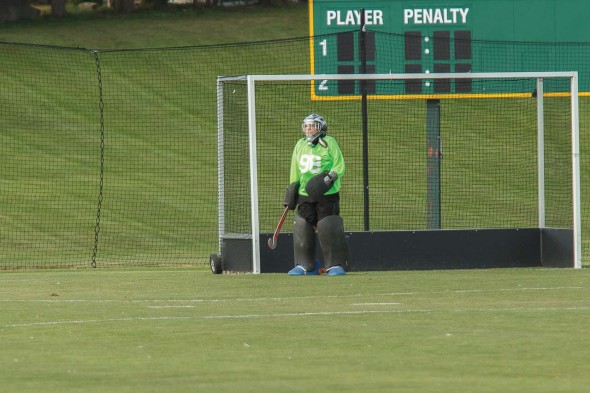 This season for the Oswego State field hockey team has been full of valuable experiences. From close matches to some tough losses. The team still looks to the future of this season as well as for years to come. That is where freshman goalkeeper Sarita Charap comes into play as she has made a huge impact in her first season as a Laker.
So far this season, Charap has been one of the star players on this team. Currently, through nine games, Charap has started seven of them, played in eight and leads the team with a 2.13 goals against average, a .821 save percentage and three wins.
Head coach Brandi Lusk, who is in her seventh year leading the team, sees the impact that Charap is making as a freshman, but said this is something that this program has had much success with in the past.
"It's been great to have the impact players, those are the type of players we try to recruit," Lusk said. "We've had them before. Courtney Collins, she came in just the same way as Sarita during her freshman year. Julia Calandra and Grace Rinaldi were great last year as freshmen. We also have Monica Harvey really stepping up too in the freshman class. So we're very fortunate here at Oswego that each year we've had quite a few of those impact freshmen. But Sarita stepping up for us in the back of the net the last few games has definitely helped us out a lot."
The impact Charap started to make came right in the first game of the year versus nationally-ranked William Smith College. Charap came in for the start of the second half with the Lakers down 6-0. She would go on to make 13 saves and allow only one goal for the entire half.
The performance earned her SUNYAC defensive player of the week, as well as ECAC Division III Mid-Atlantic rookie of the week, for the week ending on Aug. 31.
Charap gave all the credit to her teammates for her amazing debut.
"It was really great because the girls around me are just phenomenal," Charap said. "So when we had a lot of corner situations, it was great to have people behind me that knew what they were doing."
Lusk commented on how the game played out to bring in Charap for the second half.
"I knew before the game she was nervous. That's why we went with our returning goalies, Grace and Priscila, to start us out and then I think that when we got into the second half we wanted her to go in and she just did such a great job," Lusk said. "Now I think she's in her own element a little bit and she's just improving everyday."
Lusk referred to other goalkeepers on the roster, juniors Priscila Paulose and Grace Lombardi. Both of whom have supported Charap through her first year on the team. The freshman is very appreciative of their help.
"It's amazing, they're great. Spending time with them has just been great," Charap said.
The improving player in Charap has had a full career of playing in big games as her high school, Ocean City, won the Cape Athletic League from 2010-2013 as well as winning the New Jersey Group Three state championship in 2012 and 2013.
Charap agreed that those games in high school definitely prepare her for the game against William Smith College.
Now, when it came to her decision to go to Oswego State, for Charap it first had to do with academics. Playing for the field hockey team was just an added bonus.
"I visited in the summer and it was really nice, and I liked the zoology program so I just thought it was a good fit," Charap said.
Lusk was happy to see Charap make a decision based on academics and not athletics.
"To be honest, she was someone I didn't heavily recruit," Lusk said. "She chose Oswego which is the best way we like to get our athletes. We always tell them the most important thing is what you're going to do academically in college, especially in Division III. Very few Division III players go to be professional field hockey players. So it was nice to see a player with that talent choose Oswego."
Another thing about Charap is how she plays in practices compared to how she plays in games.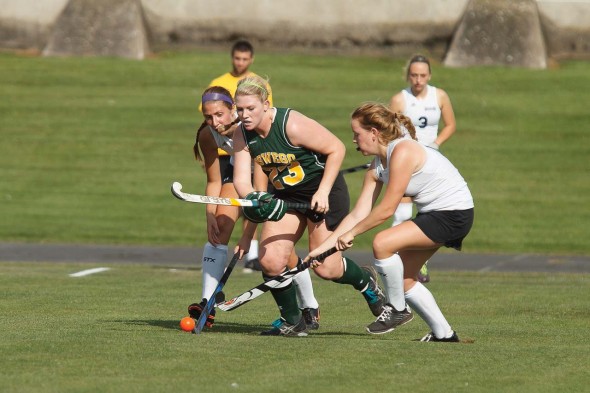 "I will say, what's really funny about Sarita is she's not a practice player," Lusk said. "She's a game time player. In practice, we have a lot of laughs about the choices she makes as a goalie. But she's a game time player. It's nice to see her step up, she's made some amazing saves for us lately against Oneonta and New Paltz. Grace and Priscila too, they're outstanding goalies. I think it's just great to have three great goalies."
Lusk mentioned how the goalkeepers help each other and the team's positive attitude overall.
"The great thing about this whole team, and I like to say the same thing about my women's lacrosse team, they're not catty, petty people. They understand the success of this program is on the backs of every single girl on the field. If we support each other and we help each other get better by pushing each other to be better, then were gonna be," Lusk said. "Priscilla, Grace and Sarita, the three of them are very supported. They know each others strengths and weaknesses and I give them all the credit in the world to the success we've had in net this year."
Paulose, who is also a co-captain, has played in one game so far this season, making four saves and currently holds a .571 save percentage. She commented on how even though she and Lombardi have been on the team for two years, all three goalies assist each other when it           comes to improving.
"All three goalies have a different style of play," Paulose said. "So when one of us does something and excels at it in practice, we'll ask how they did that. If anything we actually learn from each other. No matter how old you are, we're all still learning."
Paulose also mentioned that no matter who is in net, they support the one who gets the nod to be put between the pipes.
"Whenever there's a starting goalie we always encourage them, tell them to play their hardest," Paulose said. "It's their game, it's their cage, protect their field. We always encourage each other, we never try to discourage anyone from the net."
With the help of her teammates, Charap mentioned how much Lusk and assistant coach Jessica Franklin have helped as well.
"The coaching staff is really great," Charap said. "Brandi's great, Jessi's great. Just to have a group around you who are excited about the sport is really cool."
That group also includes an offense that is led by co-captain senior Courtney Collins, who mentioned how this team has progressed in terms of goaltending over the four years she has been here.
"It's nice, because all the years I've been here, except freshman year where we didn't really have a great goalie and we had one that stepped up and just join the team because we didn't have one," Collins said. "Then we had two really great goalies come in my sophomore and junior year and then for Sarita to come in as a freshman and just own in the net and the back it just gives the confidence that we can just take it up in the offense and we don't have to worry about the backfield. So, it gives more of a scoring opportunity."
Collins also knows how important the goalkeepers are as the offense cannot succeed without a good defense.
"They know what they are doing. We have confidence in them. We trust them and that's the main thing in this sport you need to trust the people behind you because as soon as you lose the ball it's the person behind you backing you up," Collins said. "So if you don't have trust in the people behind you, the team falls apart. So the trust around the field really effects the team's play."
The Lakers' record currently stands at 3-6. The record includes three losses that were all by three or less. Lusk is focusing on some big upcoming games as the team looks to reach its goal of a winning season.
"We've got [six] games left this season, and I would say St. John Fisher and Cortland are going to be really good competition," Lusk said. "St. John Fisher has already scored 26 goals this season. So they're definitely goal hungry. That's going to test our goalies out there big time. But the other five games for us are definitely winnable games and I think if we can win those [four] and surprise one of those two teams, we can have a winning season. The first winning season since the '90s, maybe the '80s? The girls work hard and I just hope it pays off."
Collins echoes that same goal as she is looking for her first winning season in her last season as a Laker.
"I've wanted it all four years. I've been here struggling to get that winning season," Collins said. "We were close, kinda, last year but this year we're really trying to get it."
If the Lakers are going to make a big run down the stretch. Charap will most likely be one of the reasons why. Her success through the first half of the season was impressive, but it will be interesting to see how it transfers over to the rest of the season. But, for her, it is pretty simple what her goal is when she is in the cage for the Lakers.
"Just do the best I can," Charap said.
But one thing you can say about this field hockey program is that the future looks very bright with Charap in net.
"I know she's going to be the future of the program. So having as much expeerience now is going to get her better," Paulose said. "I'm sure the turf is going to help us out in the future also. Hopefully the next couple years the program will get stronger."
Oswego State's next game is at home against St. John Fisher College on Tuesday, Oct. 7 at 4 p.m. at South Athletic Field.