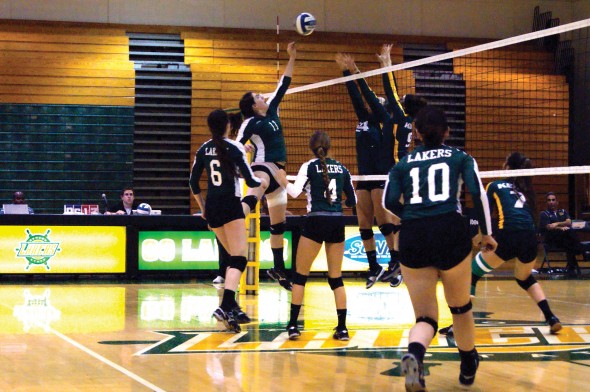 The Oswego State women's volleyball team is going through the motions this season. The player that is helping the team play at its best is captain Stephanie Bailey, the only senior on this squad that has plenty of youth on it. She loves every moment she spends with this team, and she is going to try to enjoy her last year with them to the fullest.
Since joining the team in 2011 as a freshman, she has been a consistent player for the Lakers. She has been one of the better middle blockers in the SUNYAC conference throughout her time at Oswego State. She has played in at least 28 matches for the Lakers every year since her freshman year, amassing a total of 108 matches played as well as 351 sets played.
Head coach J.J. O'Connell knows that she is still an important player on the team.
"Its good having someone we can lean on," O'Connell said. "We have good experience on the court and that certainly helps when we try to close games out."
Bailey has been the Lakers' leader in kills and blocks each of the last two seasons and looks too make it a third in her final year.
"We know we can count on her because she's pretty efficient," O'Connell said. "She has a lot of different shots that she can use, the fact that she moves around so much on the court and does everything makes her really tough to stop."
O'Connell also spoke of the legacy that she has a chance to leave behind after she graduates Oswego State.
"She wants to be one the best players we've ever had here at Oswego, and she has been working her best," O'Connell said.
Being the only senior on the team, O'Connell knows how important Bailey is when it comes to leading the other players.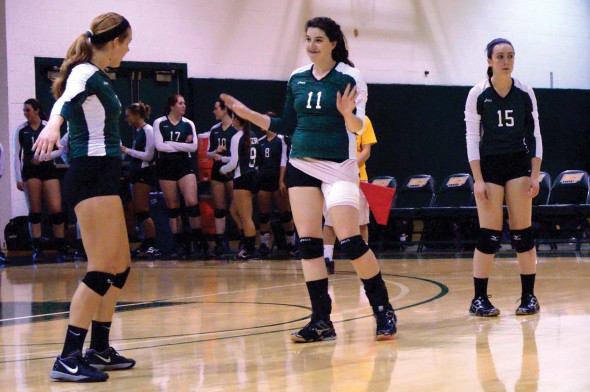 "She's one of our better leaders on this team," O'Connell said. "She looks after all of the other players due to having the  most experience."
O'Connell knows that the other players feel the same way about Bailey as well in having someone to look up to.
"The players know they can talk to her" O'Connell said.
Bailey is used to being the only one her age the team and she has had no issues with that throughout her tenure here.
"I've adapted to being the only senior," Bailey said. "I've been the only one in my year for the last two years."
Bailey tries to straighten herself and her emotions out so that her energy is able to transcend throughout the rest of the team during the game, especially if it is an intense match. Positivity is important to her, even when she tends to have negative thoughts during matches.
"I try to be more positive, I get really hard on myself. I usually bring myself down," Bailey said. "It's about overcoming that in order to make everyone else feel more positive. I'm trying to keep the energy level up around the team. I tell them stuff like it's going to be fine, shake it off.
She thinks the team will be ready to move on after her, citing talent that is ready to bloom.
"I love them, they're going to be fine without me. They've got really strong players ready to take over," Bailey said.
She thanks her team for all that she has been able to do,  particularly O'Connell.
"Coach O'Connell has given me a lot of opportunities. He's shown faith in me," Bailey said. "Telling me that its fine, or that I'm doing well, even when I'm not having my best game out there.
Bailey recognizes she could not do what she does without her teammates.
"We support each other equally," Bailey said. "Everyone brings out the best in each other and everyone has different qualities that they have in order to help they rest of us."
"I'm really loud, so I guess that's how I'm able to help this team out since my team can always know where I am on the court," Bailey said.
She has been consistent and she is looking forward to closing the year out with the team she spent the last four years with. The Lakers are carrying a 11-10 record for now, with a 2-1 record within the SUNYAC conference. Bailey will enjoy the ride for as long as she can.
Oswego State's next match is Wednesday, Oct. 8 at 7 p.m. on the road against Cazenovia College.