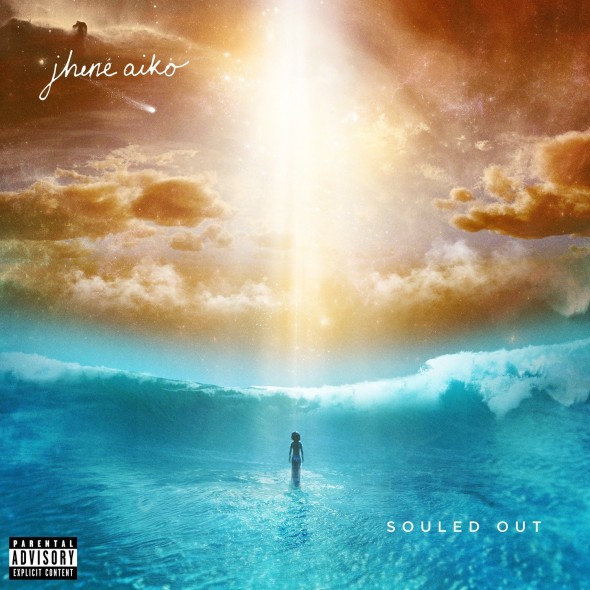 "Souled Out" is the debut full-length album by Jhené Aiko that was released on Sept. 9, 2014.
When she was younger, Aiko was promoted through the popular R&B group, B2K. She was introduced as "Lil Fizz's cousin." In 2003, Aiko was set to release a full album but it was never released because she wanted to continue her education and felt that a musical career would get in the way of that. In 2011, she released her mixtape, "Sailing Soul(s)."  The album was only released on her official website, JheneAiko.com.  In 2013, she was featured in rapper Big Sean's single "Beware" alongside Lil' Wayne. Later that year, Aiko released her first EP, "Sailed Out" which was a success and gained her a fan base.
"Souled Out" has a very space age sound to it. The songs all contain heavy use of synthesizers and Aiko's voice seems to echo through most of the chorus'. Aiko wrote all the songs on the album with the help of some fellow writers. Aiko has a very soft and high voice that she carries beautifully throughout all the pieces on this album. However, most, if not all, of the chorus  are typically one word or phrase repeated over and over again. The album tells a story of a woman who has suffered a very painful heartbreak. As the album comes to an end, the story turns to one of enlightenment where the singer realizes she is strong and can be strong on her own.
The first single released off of the album is "To Love & Die" which features Cocaine 80s.  The song was released in late June of this year. The lyrics are very dark and are almost like Aiko is confessing to her audience. "To Love & Die" topped R&B singles charts. The song uses a heavy synthesized snare drum that carries the beat of the song. The chorus repeats the phrase '"live for the love/ die for the love" over and over.
"The Pressure" is the second single released off "Souled Out." It was released in July of this year. The song was written entirely by Aiko whose voice still provides an airy, star-like quality to the cosmic backdrop of the song. Although the song did not do well on any of the big named charts, it is one of the most popular songs on the album according to iTunes. The songs repetitive nature and synthesized sound is similar to Nicki Minaj's single "Pills n' Potions."
The album has  beats mixed with Aiko's high-pitched yet smooth voice that creates a harmonizing melody. All the songs seem to flow together and create an interesting story about Aiko's love life through the years and how she has come out stronger than ever. However, her lyrics are highly repetitive and the music itself does not change much. Aiko said in a recent interview, "I just mainly want people to connect with the songs on this album, and connect with me, and just find themselves in these songs."