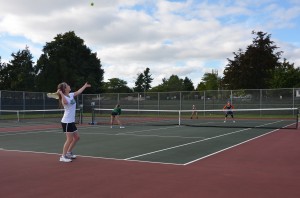 The Oswego State women's tennis team defeated the Utica College Pioneers Friday evening at the Romney Tennis Courts, 9-0.
The Lakers picked up their second win in row after losing their first two matches of the year, returning to .500. This win was a complete effort as all the matches were won in dominating fashion.
The match started off with the doubles. The Lakers' first doubles team, senior Lauren Stall and junior Alicia Kreamer, won its match over Utica's Rose Zaloom and Monica Johnson, 8-3. Also, second doubles, senior Haley Miller and freshman Jill Travis, defeated Utica's Doni Look and Anastasia Fitzpatric, 8-2, and, to finish off the sweep at doubles, the third doubles team of sophomore Alli Ullrich and junior Kelsey Wilson defeated Utica's Andrenna Sykes and Shania Barton, 8-0.
This was the debut for both Ullrich and Wilson in the doubles starting lineup this season. Lakers' head coach Erin Skaradek stated the reason why putting the twosome in the spot.
"Alli joined us a little bit late cause she was a walk-on tryout for us, so it took a little while to try and find a partner in terms of doubles and who would fit well together," Skaradek said. "I think her and Kelsey started off really well together. Still need work a little bit on communication. But they have done a nice job playing with each other and complementing each other really well."
Ullrich, who also plays for the women's ice hockey team, is in her first season on the women's tennis team, she explained how much she enjoys playing with Wilson, who is in her third year on the team.
"It is a little bit of an advantage. If I'm down, she knows it is going to be ok cause she's been in the position before," Ullrich said. "She's a really good partner and we do well together."
Skaradek sees the positive impact Ullrich has been on the squad, and it makes her wish they had had the sophomore all along.
"I think we kinda wish we had her right from the start. She's taken a year and a half off, so we are working to get a little bit of the rust off her game right now," Skaradek said. "She does a lot of really great things. Her mechanics are great, her form is great, she is a smart player, brings a lot of energy and enthusiasm to the team too."
After doubles was over came the singles matches. In first singles, Stall defeated Zaloom, (6-0, 6-2). In second singles, Kreamer defeated Johnson, (6-0, 6-1). Third singles saw Wilson defeat Fitzpatric, (6-0, 6-0). Then, in the last three singles matches, all of them ended in the same score of (6-0, 6-0) with Miller defeating Look at fourth singles, Travis defeating Gabriella Morreale at fifth singles and finally, to complete the shutout, senior Marie Halpin defeating Lu Lu Zhang.
This win was very satisfying win for the team. In last week's match, though the Lakers won in very good fashion, 8-1, over Wells College, Skaradek believed there were a couple things the team could improve on. She talked about how that changed today.
"We had a really good week of practice. We went straight Monday through Thursday and put a good four practices together," Skaradek said. "We got a little bit of the rust off, got rid of the crappy footwork and we were able to put a good match together."
The Lakers now have one more non-conference match before they start their big run of SUNYAC matches. Skaradek believes the team is primed to earn its first SUNYAC win of the season.
"It's great to get some non-conference wins, but our goal is to perform well in the SUNYAC," Skaradek said. "We're prepared from here on out, every match should be competitive. So we need to bring our A-game and not slack, not have sloppy footwork and if we do all the little things right, then we should end up with a win."
Oswego State is at Daemen College on Sunday, Sept. 14. They return home for a SUNYAC matchup versus SUNY Cortland on Thursday, Sept. 18 at 4 p.m.