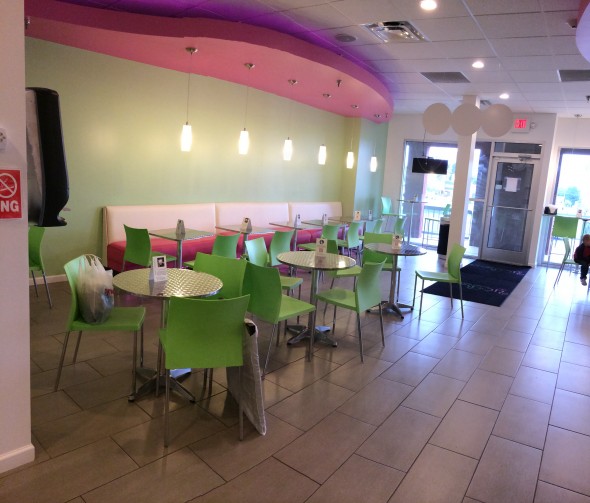 ­­­­­It looks like my prayers have finally been answered because a frozen yogurt spot has opened up that is sure to have your taste buds jumping for joy. I became a part of the froyo craze about five years ago and since than I have never looked at ice cream or Italian ices the same way. From Pinkberry to Sixteen Handles, there isn't a frozen yogurt bar I have not tried, so when given the opportunity to review this hidden treasure, how could I refuse.
The restaurant is called Yoberry and is located on 250 W. Seneca St., right next to Zoom Tan. It's so close to campus that the walk there is a mere ten minutes from west campus. The location is only one of the many components that make this place great. The interior is bursting with bold splashes of color that are fun and inviting. However, the seating areas are set up so simply that it allows for consumers to get lost in delectable flavors the yogurt is comprised of.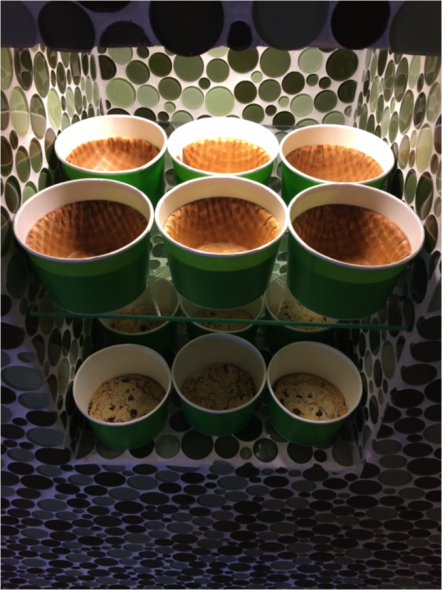 There are a vast variety of yogurt flavors that fill up the rows of soft serve machines.  There are creamy satisfying options such as cookie dough, old-fashioned peanut butter, mint chocolate chip and cookies-and-cream. Alongside these flavors are healthier low fat options such as peach, mango, pink lemonade sherbet and even an organic vanilla tart, which was my personal favorite due to its rich taste that is so simple it creates a great base for any list of toppings. Yes, there are toppings, and lots of them. The toppings covered the majority of the walls and the counter tops. Whether you love fruity toppings, gummy toppings, nuts or chocolate; whatever you are craving, they have it!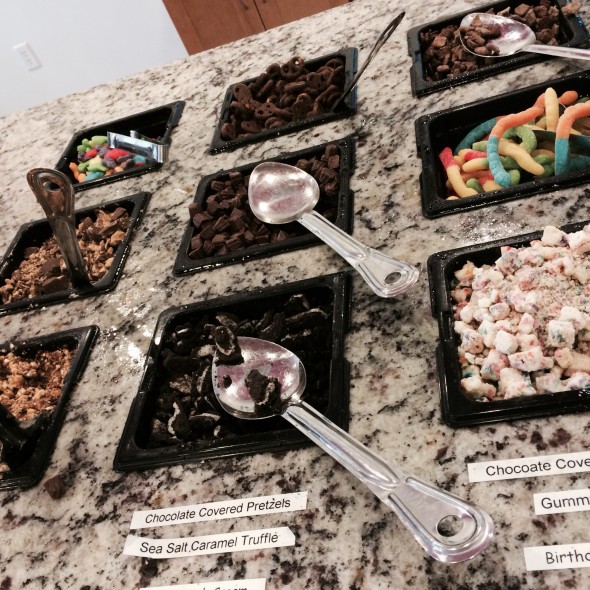 Not sure about a flavor or topping? No worries. The staff is so sweet that they allow you to try it before you buy it. The sample cups are a perfect size for a taste test and it gives you reassurance that you are making the right choice in flavor.
Additionally, if you are a calorie counter like myself, you are in much luck. Every flavor has the nutrition facts per 3oz above it. This includes calories, protein, carbohydrates and cholesterol. Most of the flavors range between 90-120 calories, which is easily burned off from the walk there and back.
For my first Yoberry experience I chose the organic vanilla tart flavored yogurt and topped it off with fresh
kiwi, strawberry, raspberries and a few chocolate covered pretzels. The experience can only be described as a combination of sweet, crunchy, velvety excellence. This one definitely gets four stars in my book. Not only was the yogurt satisfying but the price was too. I paid three dollars for a treat that pleased every one of my taste buds. The cost depends on the weight of each cup (which is pretty large) so I recommend filling the cup ¼ yogurt and ¼ toppings to keep the price low.
After I finished my appetizing dessert, I was left with a smile on my face. Yoberry will shortly become the hot spot in all of Oswego. I guarantee it. I will certainly be returning for more Yoberry soon so I suggest trying this place out before I eat all of the yogurt myself!