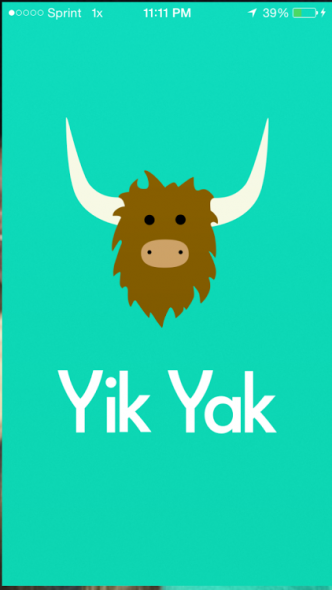 A new popular social media app has recently made a buzz at Oswego State. Yik Yak allows users to write anonymous statements about anything or anyone and post them up online, a bit like an anonymous public bulletin board. It is available on iOS and Android.
The app, created by college students, is aimed toward college students and allows them to see what other users are posting, but only within a five-mile radius and in 200 characters or less. According to the website, Yik Yak has made $10 million as of last June.
Yik Yak is set up similar to the other social media sites like Facebook and Twitter, which allow a user to "like" or "favorite" a post if you agree with or appreciate a certain post.  However, Facebook and Twitter do not have the option to "arrow down" a post, unlike Yik Yak. If a post receives a certain number of down votes, the post will be taken down. Continuous down votes will lead to a user being suspended. College students post about a variety of topics on this site, some are inappropriate, some informative and some entertaining.
Like many similar anonymous sites, controversial opinions arise. Yik Yak's founders, and students of Furman University in South Carolina, Tyler Droll and Brooks Buffington, both admitted to facing some issues among a variety of colleges when they launched the app in November 2013. In an effort to try and prevent bullying, a post is deleted when it receives two or more arrows downs.
Although Droll and Buffington's main goal was not to have inappropriate content typed and posted, students pointed out the realistic content that is put on the site.
"Yik Yak is a funny app that people tend [to use] to be mean to freshmen," said Oswego State junior Dan Kinnaird. "My highest amount of ups is 34."
Although this app has a controversial aspect to it, many students believe it is not as harmful as it seems. Several students see it as a source of entertainment and a place to find out information regarding events on campus.
"I think it's so funny to read when you're bored in class," freshman Nick Zogas said. "It's also a good way to find out if anything is going on."
The site has about 100,000 monthly active users, including 15,000 messages that are posted everyday. However, information about the social aspect to it is nearly impossible to analyze at this time.
Timan Nekritz, the Oswego State web communications director, commented on this fact. "Not sure much about stats and such, which are probably hard to document since it's an anonymous site," Nekritz said.
The app was recently updated, showing off a more refined and user-friendly look. In addition to the updated look, a new "Me" page was added. This page allows the user to organize their yaks, replies and to check on their top yaks, those with many "likes."
The corporation began aiming the app toward schools in the South East and is now spreading to over 100 different schools across the nation. The app initially allowed both middle school and high school students to join, however, because of bullying issues, they are no longer allowed to join if they are under 17. This application does not work on grounds of known middle school and high schools.
This innovative piece of social media primarily isolates people from the ages of 18 to about 24 into their own world. It allows young adults to talk freely, to an extent, about what they want without the worry of younger students being exposed to inappropriate things and without the older generation to scold them.
"Yik Yak is an app where you can post anonymously about getting STDs and peeing in your roommates bed. It's awesome," said junior Billy Bogaski.