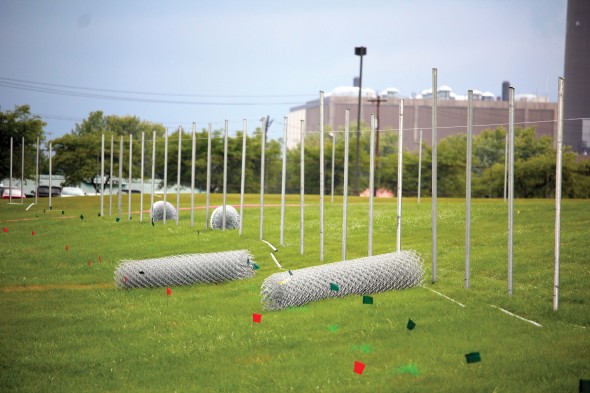 Construction on a new outdoor turf facility between Oswego State's soccer and baseball fields began on Monday, adding to the list of recent renovations the university has been working on.
The project is expected to be completed by August 2015, just in time for the start of the fall sports season next year. According to Assistant Athletic Director for Marketing and Game Management, Malcolm Huggins, the new stadium will give Oswego State teams greater flexibility when it comes to dealing with the infamous Oswego weather.
"We will still have the game grass field so they'll have an option of playing on the grass or turf if they have to for inclement reasons," Huggins said. "And when we're practicing in that winter time, when we get out there in March, that's where we'll have some good flexibility."
Having the ability to practice outside earlier in the season will likely prove to be a huge advantage for the spring sports teams, said field hockey and women's lacrosse head coach Brandi Lusk.
"As far as lacrosse is concerned, I think that's going to help us out tremendously," Lusk said. "We're going to be able to get outside earlier in the season, rather than    in April."
Lusk also believes that the new stadium will allow them to do things they have never done before that will ultimately help the team perform better throughout the season.
"It's going to allow us to have more full-field conditioning in the spring for lacrosse," Lusk said. "For field hockey we can become a lot more technical, with a lot better dodges and plays just because we're not having to play the bounce and read our surface more."
Furthermore, Lusk says that it will improve the regularity of practices and games for the field hockey team.
"For field hockey, we constantly have to change surfaces," Lusk said. "We're on grass, we're on Astroturf and we're traveling to turf fields. So to have that is going to add some consistency to our schedule."
As far as the schedules go for this season, home games for Oswego State soccer and field hockey teams will not be affected since both of their game fields will remain intact. Practice schedules, however, will see some changes.
"What we've worked out with campus recreation is they're letting us use the hidden fields on campus," Huggins said. "That's where we'll have some practices for the soccer and lacrosse teams."
This is due to the fact that the turf facility is being built on top of the four current grass practice fields. According to Lusk, this will present coaches with a few new    scheduling challenges.
"We're losing a lot of our practice fields to put down one turf field, so I think time wise it's going to be all of us coaches getting together to figure out which times work best for our teams," Lusk said. "The hard part is going to be creating class schedules around those practice times."
Despite the short term difficulties the construction may cause, the benefits the Oswego State athletic programs will reap once the field is completed will extend much farther than just practice and game play. Huggins believes that one of the most significant differences for the university will be on the recruiting front.
"Recruiting is what will change because our facilities will be more on par with our peers," Huggins said. "When we're out there and we're comparing our facilities, we'll have this brand-spanking-new facility and we'll be able to attract a different type of athlete, or that might put us over the edge where we may normally lose a student to a school with a better facility."
All of these benefits that the new turf field could bring to Oswego State have already been seen with the renovation of Romney Field House in 2012-13. After being able to use the new and improved field house for the entire 2014 season, Lusk's women's lacrosse team posted the second-best record in school history.
While there is a lot of excitement being generated over the construction of the turf field, there had been previous hopes that it would get done for this current fall season. Coach Lusk acknowledged that it was a bummer for her seniors to learn that they would never get to play on the new field.
"I know my lacrosse team's bummed out because some of my seniors will never get to see that," Lusk said. "And the same feeling goes for my field hockey team, seniors and upperclassmen, they're just bummed it didn't happen this season, but we are thrilled that it is actually getting done."