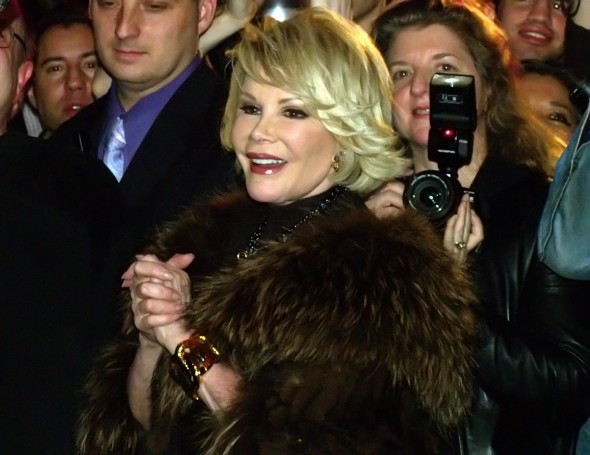 "I succeeded by saying what everyone else is thinking"- Joan Rivers.
Joan Rivers, renowned comedian and television host, passed away Sept. 4, 2014, following a routine, but nonetheless risky, throat procedure. She was 81 years old. Yet, to Joan, whose soul was as youthful as an adolescent, age was never a matter of chatter. She was active in her career up until the last day of her life.
Rivers' was born in Brooklyn, N.Y., the city where big dreams become reality. She attended Barnard College in hopes of pursuing a career in acting. It was not long until she realized her true talent was her humor.
Joan would spend years performing in various New York comedy clubs before she finally got her big break in 1965, an appearance on the Tonight Show with Johnny Carson. Rivers was on the way to becoming a household name.
River's achievements did not end there. She went on to landing her own television show, The Joan Rivers Show, making her the first woman to host her own late night talk show on network television. Her career really skyrocketed in the 80's when her comedy album, "What Becomes a Semi-Legend Most," was nominated for a Grammy.  She also had two best selling books. In 1990, Rivers won an Emmy for "Outstanding Talk Show Host" for her day show and in 1994, she was also nominated for a Drama Desk Award as Outstanding Actress in a play and for a Tony Award as Best Actress in a play, for her performance in "Sally Marr…and her escorts."
In the later years of her career, Rivers and her daughter Melissa premiered their reality TV show "Joan and Melissa: Joan Knows Best." At the same time, Rivers was a co-host on the television show "Fashion Police," where she critiqued celebrity wardrobes in a witty and comical way.
Rivers lived her life always leading the crowd. She was strong and independent. Although, many people did not like the vulgarity of her words and the harshness of her evaluations, Rivers would never let the world bring her down. Whether you loved or hated her, River's could keep an audience's attention. She spoke about things people did not want to hear. In her eyes, the hard truth was better than a sugar coated lie. She will be remembered as being a loving mom, admirable friend, and an overall sensational human being who voiced her opinion no matter how controversial it was. Joan took pleasure in making people laugh and found great comfort in laughing at her own mishaps.
Rivers is looking down at us smiling at the memory of her tremendous life. She impacted the lives of so many people and has left a legacy that will continue on long after her death.  I hope the angels at the gates are well dressed because, if not, I know one woman that will put them in their place.