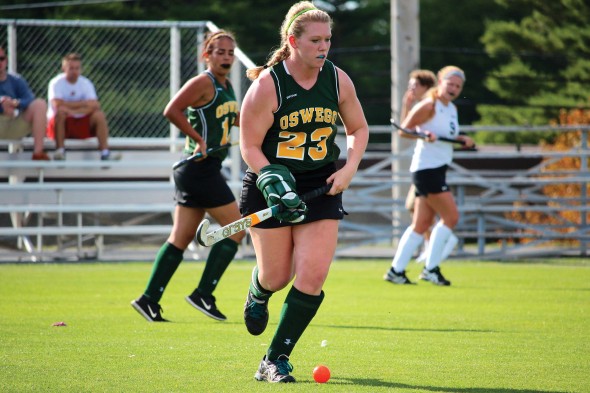 The Oswego State field hockey team is looking to do something it has not been able to do in years, and that is finish the season with a winning record.
Oswego State started out its season with two tough opponents in nationally-ranked William Smith College and Ithaca College, where Oswego failed to score a single goal. While their season looks bleak, field hockey coach Brandi Lusk has not given up on her team.
"After we went down 0-2, we really started emphasizing hard work, conditioning and a sense of urgency all over the field," Lusk said. "Playing two tough teams to start, including No. 9 William Smith College, was really tough on our girls."
Whatever Lusk said to her club following the 0-2 start sure sent a message. The Lakers have gone on to rattle off two straight victories over Nazareth, 4-3 in overtime, and a 2-1 victory over  Houghton College.
Last season, Oswego State finished with a 5-9 record. Rather than dwell on the past, captain and goalkeeper Priscilla Paulose wants to assist her team in any way she can.
"I get to see the whole field and what players are doing," Paulose said. "I try to encourage my teammates and be there for them; I'm there to bring the team closer."
Freshman goalie Sarita Charap has shadowed the net over the two-game winning streak tallying 16 saves, while only allowing four goals.
"A lot of girls are stepping up for us too," Paulose said.
Freshman Danielle Cronk has made a large impact alongside Charap.
Despite being a freshman, Cronk continues to lead by example. She has recorded a team-high two goals and 10 shots, eight of which were on goal. In only four games, Cronk has twice as many shots as the next Laker on the roster.
Cronk, along with the rest of the Lakers squad, will need to continue tearing apart defenses if Oswego State looks to remain above .500 throughout the season.
"We've got a very young team this year, but they're willing to learn," Lusk said. "The players are making efforts to apply and transfer what they learn in practice to the games."
Senior co-captain Courtney Collins certainly believes this could be a turnaround year for the Lakers.
"We have great potential if we continue to work as a team," Collins said. "Right now we're playing well together as a team and we're uniting quickly."
Over four games, the Lakers have averaged 1.5 goals per game, but have averaged 2.5 goals since starting this winning streak. Over the course of the two games, the Lakers have tallied 23 shots with 16 shots on goal. With the offense firing on all cylinders, it may be tough to put an end to Oswego State's recent offensive success.
"After going down 0-2 on the season, we turned to Nazareth, who we beat last year and were confident we could beat them again," said Paulose. "It's all about coming out and shocking the opponents. We have to go out focused and confident with every game."
Regardless of what transpires over the coming weeks, Lusk is prepared to coach however seems most effective.
"If my team needs to be pushed, I'll push them," Lusk said. "I wear a lot of hats, but a good coach will adapt to what the team needs."
Now that confidence and team morale are on the rise throughout the locker room, a .500 record may be in  the forecast for the Oswego State field hockey team.
The Lakers will look to extend their streak next Tuesday, as they travel to Clinton, N.Y., to take on Hamilton College.