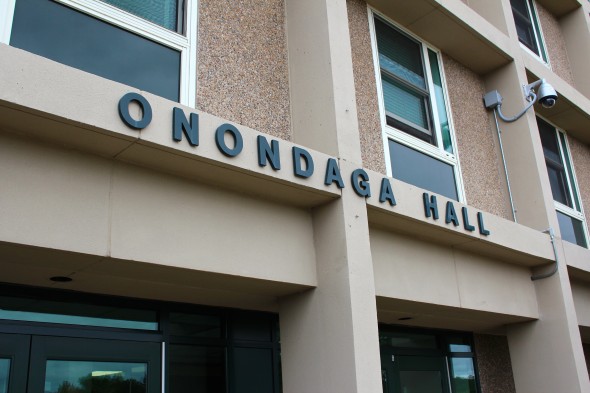 Onondaga Hall residents have been alarmed by a series of unwelcomed intrusions last week, when a male student unlawfully entered the rooms of two female suites. The male quickly fled when discovered in the middle of the night by the suite's occupants. The suspect was arrested after the last incident and charged with two misdemeanors. The suspect was released on his own recognizance.
"I was asleep and I felt as if someone was watching me; I woke up to find a guy over my bed," the victim said, who wished to remain anonymous. "He was still walking toward me when I screamed. It wasn't until my roommate woke up and shouted that he ran away and my roommate slammed and locked our suite door again."
According to the University Police report, on Sept. 4 at 4:51 a.m. UP received a call from Onondaga Hall that was described as "a burglary in progress." A witness later clarified that the call came from a fourth floor suite. Once Officer Brian McGuire arrived on the scene, he was given a description of a male who had fled the same scene earlier. The male was reported to have entered a bedroom where two females were asleep. He woke one of the females by touching her feet and then quickly fled the scene.
According to the victim, the trespasser, who she did not know, was shirtless with gym shorts and no shoes or socks.
"I was in shock for most of it," she said. "I didn't really understand what was going on until after it happened. We didn't know what to think of it; I think we were just scared mostly."
"As McGuire received more information about the suspect, he began a floor by floor search," University Police Chief John Rossi said. Soon after, McGuire noticed a man in an entrance of a stairwell who fit the description and detained him. The victim then made a positive identification."
Eighteen-year-old Charles Fofie, a former resident of Onondaga Hall, was taken into custody after a brief struggle. He was then transported to University Police and charged with one count of criminal trespass in the second degree, a class A misdemeanor; resisting arrest, a class A misdemeanor; and harassment, a second degree violation.
The last reported victims thought that they successfully locked the door to their suite that night, but the lock never secured.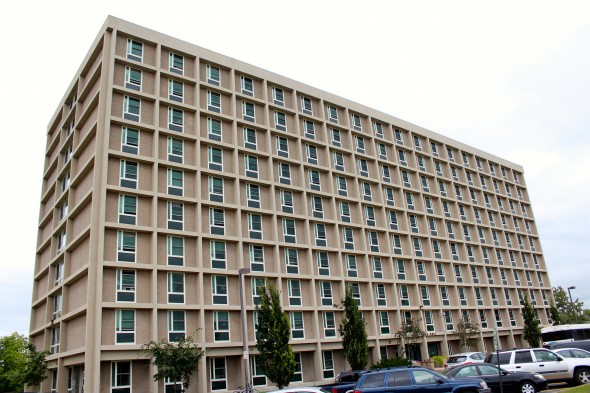 "They are really tough to close so you have to slam it shut in order to lock it," the victim's suitemate said. "We thought the whole time we have been here so far our door has been locked properly, but it wasn't. Sometimes the door locks, but obviously that night it wasn't locked all the way. "
Earlier that week, officers received additional reports from other female Onondaga Hall residents who had also been awakened by an unknown male in their bedrooms. The other victims did not identify the suspect.
The girls are not sure of the intruder's intentions but were concerned that their belongings were taken. No such burglary occurred.
Later, the victims of the last reported case met with an investigator and were given support from the police.
"UP was good with it. I felt like they really made me feel safe. I got the detectives card if I needed him or had any questions," the victim said, "UP was walking by our door that night making sure that nobody was going to break in again until the new lock came."
According to the victim, the locksmith came to check the doors and concluded there was nothing wrong with the lock. "I was mad that the school would give us a door that wouldn't lock and they didn't take the blame for it. At first the locksmith wasn't going to change the lock…," the victim said. "…There is something wrong with the lock if it wasn't locking properly in the first place. I feel like the school doesn't want to take responsibility for their part in it and I understand it happens, but at least own up to it."
After the night of the intrusion, the victims were still afraid for their safety.
"My roommate and I don't really sleep that well anymore," the victim said. "I'm a light sleeper to begin with, but the feeling of safety comes in waves now. It was obviously a traumatic event and it is going to take some time."
On Sept. 8, Oswego State President Deborah Stanley sent out a campus wide announcement about how the college has a zero tolerance for sexual assault.
"We know that colleges, including SUNY Oswego, are not immune from this vicious crime, but we are committed to ensuring that our students are safe and that the campus is a welcoming and nurturing place where all can pursue an education," the announcement read.
Despite the immediate action of University Police, the last reported victim felt that the administration was lacking.
"The administration didn't want to take immediate action and I personally felt angry. They seemed to not really care and wanted to brush it under the rug like it never happened," the victim said. "I know the email came out that they don't condone it, but it happened last week. That is not an immediate response. First they weren't going to expel him. And I think that was unacceptable."
The Onondaga hall director, Jacob Gardner, the assistant vice president of Residence Life and Housing, Richard Kolenda, the associate dean of students, Lisa Evaneski and the dean of students, Jerri Drummond, declined to comment on the incident. The administration said they could not discuss any specifics of student conduct cases. The results of the suspect's actions are not yet a part of public record.
University Police stressed the importance of being aware of students' safety.
"We would like to stress that everyone has to do their part to make this a safe campus. Locking doors while rooms are unoccupied and especially when the residents are asleep are imperative," Rossi said. "There have been extremely tragic incidents at other colleges across the country in situations like this."
Fofie was arraigned in the City of Oswego Court where he was released on his own recognizance, and an order of protection was issued to the victims. Fofie is listed as no longer on campus in the Residence Life and Housing student database.