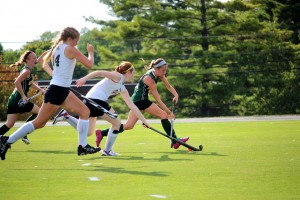 The Oswego State field hockey team returned to .500 on Tuesday as it edged Houghton College in its home opener at South Athletic Field, 2-1.
The Lakers' offense proved to be too much for the Highlanders to handle. The Lakers combined for 16 shots, 11 of which were on goal, seven different players took those shots on Houghton goalie Elizabeth Piszker.
Sophomore Jenna Jevons scored her first goal this season at 23:44 for Oswego State, putting them up 1-0 early in the first period. Jevons' goal went in off on an assist by forward Danielle Cronk and gave the Lakers something to build on of going into the second period.
However, the Highlanders with a goal of their own with under five minutes left to play in the first period, knotting the score at one.
Kristin McKane was credited with Houghton's only goal of the game, coming off of an assist by Colleen Sullivan. The two Highlanders' would combine for nearly half of Houghton's shots on goal, shooting four of the nine total team shots.
It would be nearly 13 minutes before a team would score again, as both teams were fighting for a lead. Oswego State freshman Danielle Cronk found an opening following a pass from Erin O'Brien and took over from there. Cronk finished the play with a goal, her second on the season, at 44:17.
Cronk's goal capped an impressive afternoon for the freshman, as she led the Lakers with four shots on goal, the go-ahead goal for the Lakers and an assist on Jevons' goal as well.
Oswego State goalkeeper Sarita Charap also had an impressive outing against the Highlanders, allowing only one goal and recorded three saves in 70 minutes of play.
The Lakers are currently on a two-game win streak and will next take the field at Hamilton College in Clinton, N.Y. on Tuesday Sept. 16.