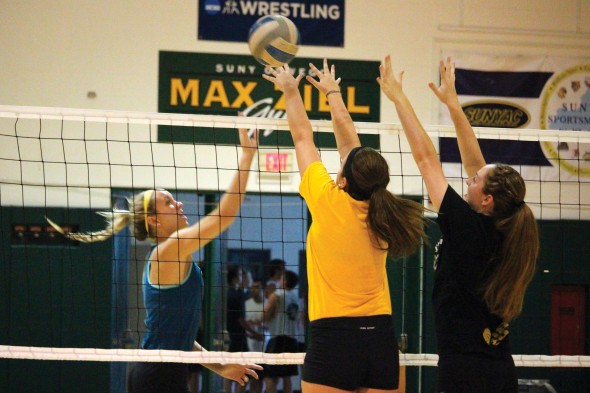 The Oswego State Volleyball team started off its season in a good place at The Colorado College Invitational in Colorado Springs, Colorado this past weekend. The Lakers faced four teams in the tournament, finishing with a record of 1-3. The teams included Simpson College, University of Minnesota Morris, nationally ranked Colorado College, and Blackburn College.
Despite finishing the two-day tournament with just one win, head coach J.J. O'Connell still has high goals for his team this season.
"We want to make it all about the SUNYAC playoffs, not the record," O'Connell said.
O'Connell also feels that his team set the tone right away for the season with a good opener playing strong teams out of the gate.
Starting off the tournament with a quick win versus Blackburn College, the Lakers faced a more established program in Simpson College, which resulted in their first loss of the tournament.
On the second day of the invitational, Oswego State played the University of Minnesota Morris and No. 8 Colorado College. Although both matches resulted in a loss, the team learned many positive things they plan on taking back to Oswego. They look to improve their reaction times when playing against faster setters and cleaner opponents.
But, as for the tournament as a whole, O'Connell believes that it went well considering they haven't played yet this year and the girls had to adapt to different playing styles from what they are used to. Learning the value of every point and realizing that you cannot give up loose points are very important factors that O'Connell has faith that his team learned while playing in this tournament.
O'Connell also believes there was nothing that he wishes the team did differently while in Colorado. But, as the season progresses, he still expects a lot from his team.
"To continue to learn new things, to keep the level of play high, and to get better everyday," O'Connell said.
Stephanie Bailey, senior middle blocker and co-captain thinks playing these tough teams early will affect their later season success.
"I think it will help us win the SUNYACs," Bailey said.
As the young season progresses, some players are already off to a very good start. The three players that O'Connell would consider as "players to watch" include his three co-captains: Bailey and juniors Kelsey Dillion and Rachel Ruggaber. He believes that these players in particular are all off to a very strong start in this young season.
Now, with the focus shifting to the next tournament, Bailey explained what the team needs to improve on.
"We need to be more efficient in hitting and receiving," Bailey said.
She also explained that their focus is on getting their attack percentage up, as well as serving more intensely.
Next for the Lakers is the University of Rochester Invitational, where they will take on teams including the University of Rochester, The Sage Colleges, Skidmore College and Hamilton College.