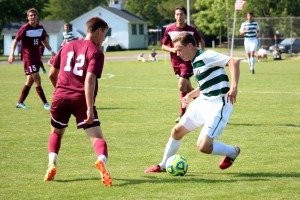 Oswego State came up short against Union College in the Oswego State Men's Soccer Classic Championship on Saturday, 2-1.
After an impressive win in their first game of the new campaign, the Lakers came out looking to carry some momentum into Saturday's final.
The Lakers saw themselves down 2-0 early on in the second half. Junior Jeff Cohen scored his second of the tournament off a pass from substitute Kyle Stengel for the Dutchmen's second goal, less than three minutes into the half. From that point, The Lakers started to pressure Union, looking to get on the scoreboard.
The Lakers finally broke through when sophomore Harrison Rieber, who was named to the all-tournament team, found space, beat a defender and put home a left-footed shot past Tournament MVP Ryan Carter. It was Rieber's second goal of the tournament, and the only allowed all weekend by Carter.
Looking back on the weekend, Rieber was realistic, but still quite confident with the side's performance.
"We can take some positives and some negatives from the game today, we just have to turn those negatives into positives next time," Rieber said.
Despite giving up an early second half goal, the Lakers certainly looked the better side in the latter 45 minutes. Making plays and threatening the Dutchmen goal all throughout the period, putting five shots on target. Carter stood tall in net, making saves on four of the five chances.
It did not come easy for the Dutchmen though. The Lakers had two near misses as the second half drew to a close, hitting the post on both occasions. Sophomore Mitch Brickman came close on a set piece of his own.
"We just have to keep moving forward," Brickmen said. "We fought back and we pretty much won the second half, in my opinion."
Oswego State did not come out with the same energy it did in Friday's victory against Cazenovia. The Dutchmen dominated for most of the first half and applied tons of pressure.
The Lakers were able to hold them off, for the most part, though they still conceded one goal, with freshman Ethan Strauss scoring off a deflection.
Lakers' head coach Bob Friske was pleased by how his team performed in both games this weekend and believes in his squad.
"I'm encouraged, and there is a lot to be looking forward to in this SUNY Oswego team," Friske said. "All of these guys are good."
Preceding the championship on Saturday was the consolation match between Cazenovia College and Hilbert College. The Wildcats scored thrice in the latter half to pull away, and grab third place, 4-1.
Joining Rieber and Carter on the All-Tournament team were Union's Sam Hunter, Cazenovia's Taner Antonakos and Hilbert's Matt Hamister.
The loss moves Oswego State to 1-1 on the season. It returns to action on Wednesday afternoon against Hamilton College at Laker Field at 4 p.m.