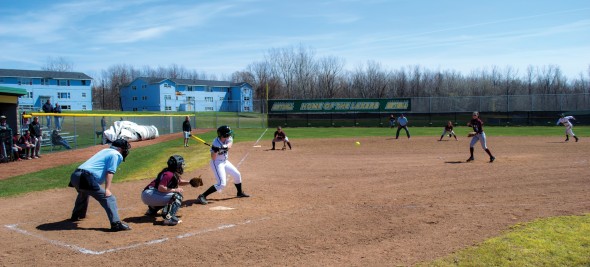 The sun has finally shined on the Oswego State women's softball team after a forgettable weekend in which the team lost six straight neutral site games played in the Syracuse area.
This past weekend was a different story, however, as the Lakers played in two doubleheaders at SUNY Fredonia and at Buffalo State on April 18 and April 19, respectively.
Oswego State improved its record to 9-16 (5-11 SUNYAC) by splitting the two games against both Fredonia and Buffalo State, breaking their six-game losing streak.
The success was just beginning for the Lakers, however, the team then faced off against SUNY Potsdam on April 20 in its first two home games of the season, making its mark by completing a 14-0 shutout in the first game.
Following this trend in the second game, the Lakers cruised to a 8-1 victory to sweep the Bears and secure their first doubleheader sweep this season.
Oswego State played at Hamilton College in another doubleheader on Monday. The two teams split the pair of contests.
Head coach Casey Price acknowledged the timely hitting as something that was a difference maker, as opposed to the weekend before.
Leaving runners on base has been a reoccurring problem for the Lakers this season. However, after such a successful weekend, Price is pleased with how well the team has done responding to this issue.
"Stranding runners on base isn't the only thing the team has had to work on," Price said. "My pitching staff did a much better job keeping the ball off the plate. Mixing our pitches up [was key], looking at our hitters from inning to inning, that was a huge help with us."
Price said the attitude of her players has not changed, even after the weekend before, when they went 0-6.
She noted that her team knows what kind of club they are and how good they can be.
Sophomore pitcher, Alexandria Connelly, was one of those players who answered the call and had seven solid outings throughout the weekend.
Connelly pitched 30.1 innings within those seven games, giving just four runs, while striking out 14.
Junior catcher and third baseman Alexandra McKay, had her best game in the second game of the doubleheader against Potsdam, going 2-for-4, both hits being home runs, and drove in four runs in the 8-1 rout.
Price also noted that freshman infielder and two-sport athlete for Oswego State, Ashley Lyman had quite an outing for the Lakers.
Particularly in the first game against Potsdam, Lyman played stellar ball by going 3-for-4, with a homerun and driving in five of the team's 14 runs in the game.
The Lakers were looking forward to another home doubleheader against SUNYIT on Tuesday, only to have yet another postponement due to bad weather conditions.
This comes after a season of frustration due to unpredictable weather, but Price said she is confident this won't kill any momentum the team has gained after their recent success.
"I think we'll be fine," Price said. "We're just hitting the ball well and we did the weekend before, but pitching makes a difference."
Oswego State has six games in three doubleheaders left this season, starting off by playing SUNY Cortland at home on Senior Day on Saturday at noon and 2 p.m.
The team then gets a few days off before closing out their season at home against Nazareth College on April 29 at 3:30 p.m. and 5:30 p.m., followed by games against SUNYIT on April 30 at 3:30 p.m. and 5:30 p.m.