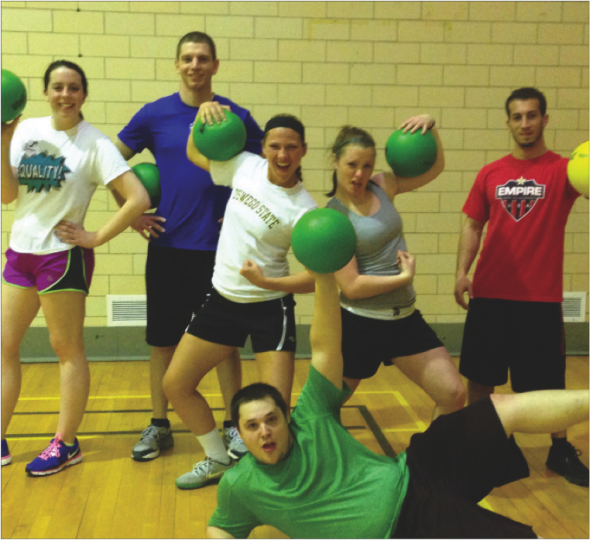 Upcoming Events and Open Recreation
With the spring semester starting to wind down, Campus Recreation is still in full force with activities to participate in.
Aqua Fitness takes place on Mondays and Wednesdays from 7-8 p.m. now through April 30, and Aqua Zumba is Thursdays from 7-8 p.m. until May 1 in the Lee Hall pool.
Open recreation floor hockey is offered in Swetman Gymnasium the next two Saturdays from 11:30 a.m. to 2 p.m.
Register on imleagues.com for the 2014 Color Oswego Fun Run and Walk on May 2 at 4:30 p.m. There are only 30 spots left, so register today.
There is still time to register for the four person, 18-hole scramble/captain and crew intramural golf tournament.  There is a shotgun start on May 4 at 10 a.m. at Griffin's Greens Golf Course in Oswego. The online registration deadline is May 2 at 4 p.m.  Participants are responsible for their own green fees.
This Week in Intramurals
The dodgeball recreational leagues ended Monday night. In the co-rec recreational league, Blue Ballers defeated Not N Da Face We're Models, 4-0.
"The championship game was very exciting," said Carlos Fillmann, captain of Blue Ballers. "We knew that if we wanted to win, we had to work together as a team."
Los Pollos Hermanos also took the win over Not N Da Face We're Models in the men's recreational league, 4-2.
"I felt our biggest obstacle was working together as a team rather than individuals," said Nick Califano, captain of Los Pollos Hermanos. "We eventually overcame it by learning to communicate better."
Blue Ballers and Los Pollos Hermanos will move on to compete for the championship T-shirts in the competitive league playoffs.
"We're excited to test our skills in the competitive league, and I think we stand a chance at winning the playoffs," Fillmann said.
Regular season play continues for the competitive leagues.  Of the 26 teams in the men's competitive league, many have proven themselves to be standout competitors. Optimus Prime is the only team that remains undefeated at 8-0. Team Purple Cows is right behind, with a record of 8-1.
In the co-rec competitive league, Optimus Prime was knocked down in the rankings to second by Blue Ballers, whose record is 11-1.  Winning their last two games, team Rolltiders holds third place in the standings with a record of 8-3.
The top seeded teams will continue on into the playoffs beginning on Sunday.
O'Doyle Rules is the leading team in the women's dodgeball league, with a 7-2 record.  The women's league championship will be determined on Tuesday in Swetman Gymnasium. O'Doyle Rules will face off against Dillions Destroyers, and The Knockouts will take on TMNT.  The winners will move on to the finals immediately following the semifinal games.
The men's competitive handball league playoffs began Wednesday night in Romney Field House.
The Ancient Hawaiians and Lee Hall Legends earned the top seeds as each team remained undefeated in the regular season.
The men's softball tournament began on Monday and the co-rec on Thursday, of this week.
In the men's tournament, Dotties Fun Nuggets defeated Zeebs, 18-1, and Sons of Pitches took the win over Phi Tau, 10-8.  Later in the evening, Windy City Sloths grinded out a 20-2 victory over The Grumpateers.
Sixteen men's and 14 co-rec teams will battle this upcoming week and the following week to play in the championship games on Friday.