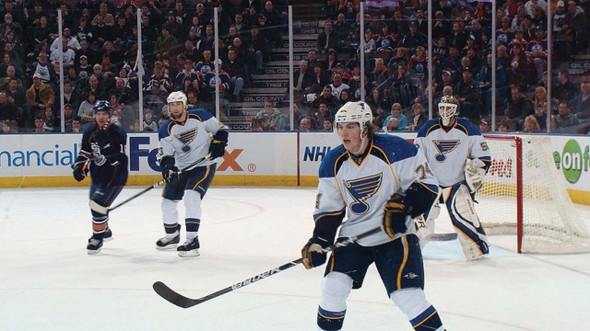 We've gone through our fair share of hockey anxiety this year, from the Olympics in Sochi to our very own Oswego State men's and women's hockey teams making such fantastic runs into the postseason. Now a new postseason is here. The one that separates boys from men and heroes from just another face on the bench. It is time for 16 teams to play for the ultimate prize, Lord Stanley's Cup.
OK, so remember way back in October when I wrote an article about the start of the NHL season? Well, that was the first article I ever wrote for The Oswegonian and my first article ever written for the opinion section, the editor of which is my friend and brother Alain Pierre-Lys. This is now my last article for The Oswegonian, and the last for Alain Pierre-Lys as opinion editor. I know, it's sad. But all good things must come to an end, and what better way to end than by talking about hockey?
In my first article, I predicted that both the Leafs and the Islanders would be in the playoffs contending harder than they did last year. Well, I was wrong, but hey, it's the Leafs, so who really cares. With that being said, what about those Blue Jackets? What a season. For years the Blue Jackets have been touted as nothing but lackluster, but the Blue Jackets proved both analysts and fans wrong with solid play all season and 43 wins at the end of the year.
[su_quote]The greatest thing about the Stanley Cup playoffs is that we really don't know who is going to win. Every team has a chance.[/su_quote]
Now the Jackets are in the playoffs as a wild card spot, but that's the beauty with hockey. Once you're in, anything can happen. Especially when you play the Penguins. Yeah, yeah, the penguins are a great team and everybody should go fanboy Sidney Crosby (I'm kidding, please don't—I will probably think less of you), but as recent years show, the Pens have had lackluster postseasons, especially getting out of the first round. Two years ago, the Pens lost to Philadelphia in seven and barely squeaked past No. 8 seed NY Islanders last year. With that being said, Columbus has their work cut out for them. As much as I may not like ol' Sid the Kid, he did lead the league in points with 104, and the team itself is second in the east with 51 wins on the season.
So while we're in the east, let's talk about Boston. I didn't expect the Bruins to be as good as they are, but they are the President's Trophy recipients for most points won in the season. However, the President's Trophy is not always a good thing. History shows those who win the President's Trophy don't always make it to the cup final, let alone win it. Unless you're the Chicago Blackhawks.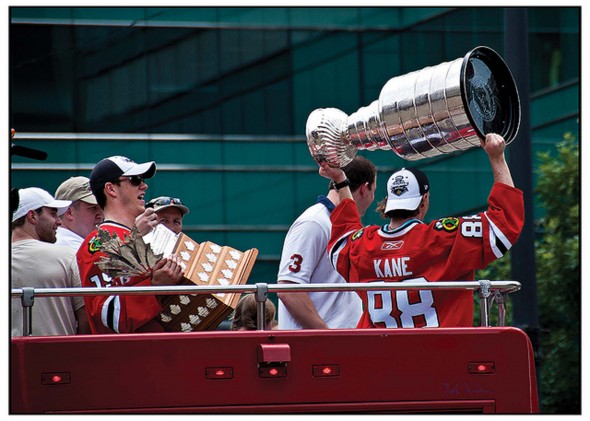 With forty-six wins and 107 points on the season, and many people consider it an almost subpar year for the reigning Stanley Cup champs. The Hawks are the third team in the central division behind unreal seasons from both the Avalanche and Blues. Chicago's first series is against the Blues and as season games have proved, we are in for a show. I wouldn't be surprised if this series goes seven. My allegiances are torn, however. As a Buffalo boy, I love seeing Patty Kane wheel and snipe. But there's also my long-time favorite goaltender, Ryan Miller, now on the blues and poised to finally win a cup; and the wonder boy T.J. Oshie is flying high. I don't know who I want to take this series more. One of these two teams will be in the western conference finals and more than likely they will be playing the young gun Colorado Avalanche and their new super coach, Patrick Roy.
The Colorado Avalanche were the second-to-last team in the league last year, with only 49 total points on the season. This year they have three more wins than they did total points last year with 52 on the season, comfortably sitting in second place in the west and third overall in the league. I don't know what Roy said, but it worked. Reports say he bare-knuckle boxed anyone who he thought wasn't playing up to par—imaginary reports, of course.
The greatest thing about the Stanley Cup playoffs is that we really don't know who is going to win. Every team has a chance. Just look at the Kings in 2012, No. 8 seed coming in, and Stanley Cup champs coming out. All I know is that we're going to have a hell of a month with some wild series. We could get an old time original six series between Boston and Montreal? Maybe the Blue Jackets will show us that they are a team to play with in the conference finals? Who knows, all I am certain of is that I'm excited to find out. So if you're looking for something to do besides studying for finals, come on down to the Shed and watch some hockey with me.
For all my Oswegonians, this is Maximilian Principe signing off. Good night, and let's play some hockey!