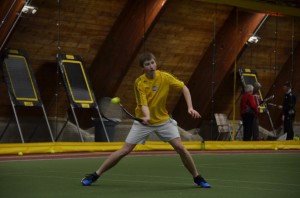 The Oswego State men's tennis team fell to St. John Fisher at Romney Fieldhouse on Thursday night in a contest filled with tightly-contested matches, 7-2.
This was a match the Lakers had circled on their schedule as one of their toughest of the season and the Cardinals came to play right from the beginning, winning all three doubles matches.
In the first doubles match, senior Ben Weiss and junior Mike Owens lost 8-1 to the Cardinals' Pat McGrath and Sheldon Mitchell. Then, in second doubles, junior Tim Van Hine and freshman Spencer Thorn suffered an 8-2 lost to St. John Fisher's Nathaniel Ligon and Jacob Zarzycki.
After the match, Thorn gave all the credit to his opponents for their victory.
"They played really good at the net, they also had really good touch." Thorn said
In the third, and final, doubles match, seniors Max McCune and Sam Carges lost 8-3 against the Cardinals' Daniel Tedesco and Adam Moran.
Losing these three doubles match put a lot of pressure on the singles matches because in order for the Lakers to pull out a team victory they would need to win five of six singles matches, a tall task against a very strong St. John Fisher team.
In first singles, Weiss fought hard against McGrath, one of the same players he played in doubles, eventually dropping the match (6-3, 6-2).
Weiss, despite dropping a match his opponent won comfortably, felt good about the performance he had.
"I'm really happy with the way I played today," Weiss said. "He was probably the best player I've played so far this spring."
Moving on to the other singles matches on court at the time, Owens lost (6-0, 6-0) to Ligon in second singles, Van Hine lost (6-4, 6-3) to Zarzycki in third singles and McCune lost to Moran (6-4, 6-2) in fourth singles.
The Lakers finally won their first match of the contest when freshman Spencer Thorn won in the fifth singles matchup against Kyle Stich (6-1, 7-5). The win brought Thorn's season record to  7-0 in singles, playing each of his singles matches in the fifth spot.
The record is a great accomplishment, and Thorn likes the consistency, but he is happy just to be in the lineup.
"I like playing in the fifth spot," Thorn said. "Being a freshman, I'm happy wherever Coach puts me."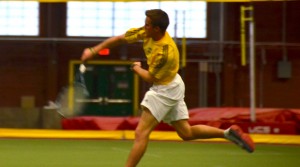 The Lakers would go onto to win the final match of the day in the sixth singles as well with sophomore Justin D' Antonio defeating Dan Lalisse (7-5, 6-2).
The team loss puts the Lakers record under .500 once again at 3-4, but Coach Robert Friske is looking at the positives, even in defeat.
"The reality is we were not good enough, but winning those two matches is very good after losing 9-0 the last four years," Friske said. "We've now got some matches, down the road, that are winnable that we are looking forward to."
Oswego State will be back in action on Saturday when it takes on Lancaster Bible College in a neutral court contest at Wells College in Aurora, N.Y. However, the team's next home match is on April 23rd.