It is just over eight months until the 20th anniversary of the last time Babson College and Oswego State met. It was a tournament matchup as well, except the Holy Cross Tournament was not the stage the NCAA quarterfinal is today.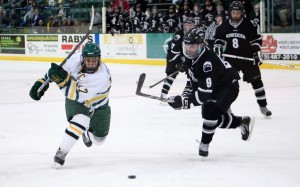 The Beavers and Lakers have taken the ice against each other seven times before this afternoon's contest. The games took place over a seven-year span between 1987 and 1994 and Babson holds a 5-2 advantage.
Five of the seven were NCAA Tournament meetings and the Beavers hold a 4-1 lead in those games.
Laker head coach Ed Gosek is aware of the history between the programs and is not surprised to see Babson in Oswego State's path to the Frozen Four.
"Jamie Rice does a great job with his program. We've had them here for our PathFinder Tournament and we've played them in the past," Gosek said. "There's a good tradition between the two schools. Back before Norwich became the power they were, it was Babson."
Oswego State and Babson, including this season, have now made a combined 27 NCAA Tournament appearances.
They were both in the field last season with the Beaver getting eliminated in their first game by a conference opponent Norwich, who was defeated in the next round by Oswego State as the Lakers moved on to a national championship game they lost to Wisconsin-Eau Claire.
This season, Oswego State needed to beat Bowdoin College at the Campus Center Ice Arena on Thursday to earn a quarterfinal berth. The Beavers, on the other hand, earned a bye into the final eight.
Gosek understood that the draw given to Babson says a lot about the type of club it has.
"They're a very good team," Gosek said. "They were ranked No. 1 in the East. They got the bye, the only team this week. So, we know it'll be a challenge."
Previous matchups:
Nov. 26, 1994: Oswego State 4 Babson 1 (Holy Cross Tournament)
Mar. 8, 1991: Babson 4 Oswego State 1 (NCAA Tournament)
Mar. 9, 1991: Babson 10 Oswego State 4 (NCAA Tournament)
Nov. 7, 1987: Babson 7 Oswego State 5
Mar. 13, 1987: Oswego State 3 Babson 2 (NCAA Tournament)
Mar. 14, 1987: Babson 2 Oswego State 1 (OT) (NCAA Tournament)
Mar. 14, 1987: Babson 1 Oswego State 0 (NCAA Tournament)
By the numbers: This quarterfinal contest pits one of the best offenses in the nation against one of the nation's top defenses.
Oswego State, at 4.10 goals per game, is tied with Adrian College for fifth in the nation for scoring offense. Babson, allowing 1.54 goals per game, is third best nationally in terms of scoring defense.
However, each of these teams closer to average on the other side of the puck.
The Lakers are tied with Utica College and Massachusetts-Boston for 17th in Division III in terms of scoring defense, giving up 2.41 goals per game. The Beavers sit in 37th among the nation's teams for offense at 2.96 goals per game, tied with Amherst and New England College.
The Oswego State offense is led by three players in the top 50 nationally for points scored, freshman Matt Galati (23 goals-11 assists-34 points), freshman Alex Botten (10-23-33) and junior Vermont transfer Mike Montagna (12-18-30).
Galati leads the country in goals scored with 23, while Botten and junior assistant captain Bobby Gertsakis (1-25-26) both sit in the top 10 for assists.
The backend of the Beavers' team, sophomore goalie Jamie Murray, ranks in the top five nationally across all major categories for net-minders and has picked up 21 wins in his second year.
Special teams breakdown: Each of these clubs is ranked in the top five across Division III when on the power play. The difference maker is, once down a skater, the Beavers hang around the top five and the Lakers drop into the bottom half of the country.
At 29.81 (31-for-104) percent, Babson is second in the country on the power play. Just a couple spots below, Oswego State is fourth at 28.36 (38-for-134) percent.
Allowing just nine power play goals all season, on 89 opportunities given, the Beavers have a 91 percent efficiency on the kill, which is third best in Division III. On the opposite bench, the Lakers are 44th in the country when losing a skater to the box, allowing 21 goals on 104 chances (79.80 percent) this season.
Special teams opportunities may just decide this game because power plays could be few and far between.
Oswego State (8.8/70th) and Babson (7.9/72nd) are both in the bottom three among Division III teams in terms of penalty minutes per game.
Gosek sees chances on the man advantage being few and far between and knows his team will have to capitalize when chances arise.
"You're probably looking at three or four penalty kills and maybe three or four power plays. So, if you're working at 25 percent on the power play, and you can score one-of-four then that's a positive," Gosek said.
"Our power play will have to be opportunistic and take advantage of the chances it gets. The best penalty killer is your goaltender and their goalie's at 95 save percentage," Gosek said.
Goalie matchup: The Beavers have not allowed more than three goals in a game all season and that is in large part due to the play of Murray (21-4-2, 1.44 goals against average, .950 save percentage). The sophomore has made all but one start for his team all season.
Information about Murray was limited for the Lakers, being from a different conference, but Gosek said he knows the talent in Babson's net.
"Their goaltender obviously, from what we've seen and what we've heard, is one of the best in the country," Gosek said. "So, that's a whole separate set of issues."
Zawadzki (14-2-2, 2.28, .917) traded off time in net with sophomore Justin Gilbert in spurts throughout the regular season. But, come playoff time, Zawadzki has the crease on lockdown.
In big games against Plattsburgh and Geneseo down the stretch, the freshman showed an ability to elevate his play and keep Oswego State in a position to win.
That kind of play will be needed against a Babson team that may need just one goal to move past the Lakers and on to Lewiston.
Player to watch:  Oswego State freshman forward Matt Galati:
Leading the nation in goals with 23, Galati is also tied for third in Division III for power play goals scored with 10.
The defense of Babson is one of the stingiest in the country and, starting with Murray, it seems to get stingier down a man. Power play opportunities against the Beavers do not come often, so scoring on the chances that come is crucial if one wants to pull out a victory.
Galati has a tendency in some games to just miss on the scoring opportunities that come his way. The Lakers will need their freshman with the big slap shot to be on point this afternoon, especially on the man advantage, if they want to pull out the win and skate on to the program's fifth straight Frozen Four.
Prediction: 4-2 Oswego State (Fourth on empty net)