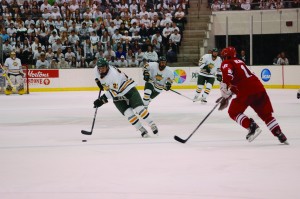 Kyle Badham has averaged a point just about once every three games during his time in Oswego so fans may not hear his name over the loud speakers for scoring goals or contributing assists this season, but that is OK with the senior assistant captain.
 "I want to be one of those hard working guys and a defensive minded forward that doesn't get scored on that people can say 'Wow, that guy works hard every shift and gives it everything,'" Badham said.
Being defensive minded, Badham does not always get recognition for the statistical categories he excels in and head coach Ed Gosek understands that this may cause the Oakville, Ontario native to be overlooked by the average fan.
"His ability to block shots, lead our team in hits, be the first on the forecheck and to lead out team in creating turnovers in the offensive zone; those are stats that we measure and most people don't," Gosek said. "Those intangibles, many times, are the difference between creating a goal scoring opportunity and giving one up. Kyle led us in many of those categories last season."
Some categories Badham is impressive in, considering how he plays the game, is penalties and penalty minutes. The veteran "first on the forecheck" forward averages a penalty once every three games, showing a level of composure that sets a great example for the players with little Division III hockey experience.
By taking such a subtle, lead-by-example type approach to his captainship, Badham is not immediately noticeable on the ice. His play can be described as silent but deadly.
"He's a quiet guy, which is fine," Gosek said. "When we select players to put in a leadership role, they're picked for a reason. We don't want them to change their personality. We don't want them to become someone they're not."
The senior is not looking to change who he is. He understands that he is no longer one of the younger guys and he has learned a lot from the captains before him, such as Kevin Huinik, Andrew Mather and Jon Whitelaw, but he looks to lead this team to success by continuing to just let his action speak.
"It's definitely different. It's exciting being a senior and hopefully we can put something together as seniors and lead this class," Badham said. "I just want to have a good season. I just want to come out, work hard every game, help our team achieve success and win games. I want the young guys to look at me and say that's the way things need to be done."
Coach Gosek knows how hard Badham works day in and day out and hopes that, along with fellow senior captain David Titanic, he can rub off on the new comers.
"He's our most conditioned athlete. You never question his work ethic in practice or in the weight room. Every shift he plays like it's his last," Gosek said. "They both bring passion, energy and great effort. The work ethic and passion of both of them will rub off on the new guys."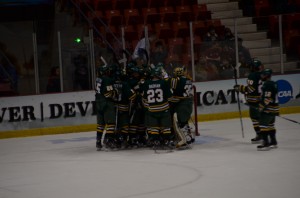 One part of the hard work that Badham really wants to stress to the freshmen is what it takes to get to where the Lakers have been in his three previous seasons, the Frozen Four. Oswego State has suffered tough losses to end each of the last few campaigns and the seniors are looking to take their experiences and lead the team back for one more go at the national championship.
"It's tough. You look back at those games and we probably could've won some of them and obviously everyone would've loved to have won it [the 2013 national title]," Badham said. "It was very tough at the time, you look back and it's not a very good feeling, so from those experiences you learn about those tough games and you really learn how hard it is to get into those games and how much you have to work throughout the season to get to that point and that's what we want to show the younger guys, what it eventually takes to get to those games."
Even with all the questions about the youth on the team this year, Badham believes they have the talent to be competitive in their league and the nation.
"I think we've got three pretty good goalies. There's a lot of skilled freshmen and there's a lot of guys who can fit different roles, so it'll be interesting to see where they fit in," Badham said. "I think we've got a pretty good group here. We definitely want to be right up there, do well in the playoffs and hopefully be in the SUNYAC championship."