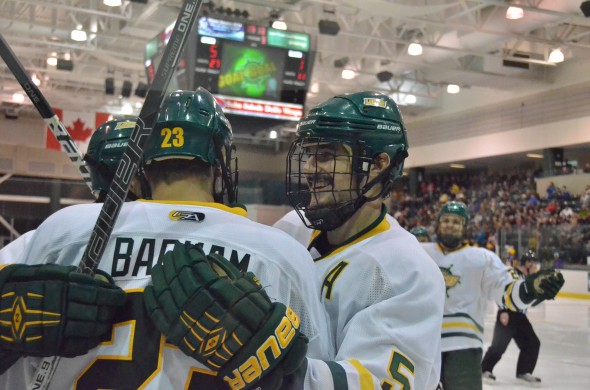 Coming off a decisive 7-3 victory against Elmira College last weekend at the Campus Center, the men's ice hockey team is hitting the road this weekend for two conference match ups with the SUNY Geneseo Knights (3-1, 4-2) and the College at Brockport Golden Eagles (1-1, 2-3-1).
The Lakers (3-1), number eight in the most recent USCHO.com poll, are currently riding a three-game winning streak following an opening night overtime loss to SUNY Fredonia on Nov. 1.
This weekend, head coach Ed Gosek's relatively new squad faces its second big test of the young season.
The team's first test was facing live action for the first time opening weekend and winning one of two competitive games with Fredonia and Buffalo State was about par. The second test will come tonight as the team faces its first nationally ranked opponent, the Knights, who currently are number 15 in the USCHO.com rankings.
Geneseo has looked good for the most part early on in the season, scoring four or more goals in each of its victories. However, when the Knights have lost it has not been pretty, falling at SUNY Plattsburgh on Nov. 8 and home versus Adrian on Tuesday 4-1 and 5-1 respectively.
Goal scoring has obviously not been the question mark for Geneseo as it leads the SUNYAC in scoring at 4.25 goals per game in conference play. The issue has been in its own zone.
The Knights allow 3.62 goals per game through their first six contests of the season. This is a statistic Oswego State can raise a bit, as they are currently tied for 15th in the nation in terms of scoring at four goals per game.
The question for the Lakers is their goalie situation with sophomore Justin Gilbert picking up victories in the team's last two games, allowing two goals per game during that span.
He'll have his hands full with the Knights' offense led by four players with six points or more. Junior Tyler Brickler (eight points) and sophomore Stephen Collins (seven points), the reigning SUNYAC rookie of the week, each have five goals and add three and two assists respectively. Juniors Justin Scharfe (one goal and six assists) and Ryan Stanimir (four goals and two assists) round off the four man list.
Moving on to Saturday evening, Oswego State will face off with a team that has not really defined themselves to this point.
The Golden Eagles currently sit at eighth in the SUNYAC with just a 6-3 victory over SUNY Potsdam on Nov. 8 to hang on to. Their only other win to this point was a 5-2 decision over the Elmira College Soaring Eagles last Friday night. Besides those two high points, Brockport has three losses, in which it was outscored 17-6, and a 1-1 tie last Saturday.
While these facts may be seem as indicative of the abilities of the Golden Eagles, it's important to keep in mind that three of those four games were against teams that are currently ranked, among them No. 4 SUNY Plattsburgh, No.7 Utica College and No. 14 Hobart College. In fact, the draw which they pulled out in their most recent game was on the road versus the Statesmen of Hobart.
Part of the reason for Brockport's struggles is its own questions between the pipes. Head coach Brian Dickinson has split time pretty evenly thus far between sophomore Jared Lockhurst and junior Aaron Green who are both allowing an average of over three goals through the first six games. The Golden Eagles have allowed 4.50 goals per game in SUNYAC play, second worst in the conference, only ahead of Morrisville at 5.33 per game.
Another reason for Brockport's low start may be connected to the lack of production from its three highest returning scorers, seniors Brendon Rothfuss and Chris Cangro and junior Troy Polino.
While none of these returners have ever contributed more than 17 points in a season, they have all had double digit points in each of the last two seasons suggesting they would lead the team this year. Instead, it is the underclassmen that are the Golden Eagles offense's driving force.
The team's top six scorers is made up of four sophomores and two freshmen, led by sophomore Chase Nieuwendyk (one goal and six assists) and freshmen Jake Taylor (four goals and two assists) and Nick Marinac (three goals and three assists).
The youth continues to produce impressively for Oswego State, as nine of the team's top ten scorers are of sophomore or freshman status. Still leading that group is the Botten, Neil, Galati line which Gosek has kept together even as he has shook up his line up early on. The three freshmen have a chemistry similar to the famous "Conehead Line" of the 1980 Olympic squad and are already receiving comparisons to the decorated Moodie, Whitelaw, Rodrigues line that graduated last May.
The Lakers seem to be starting to find their rhythm and are building chemistry in the early stages of this season. Which could be a frightful reality in the coming months, starting with Geneseo and Brockport this weekend.