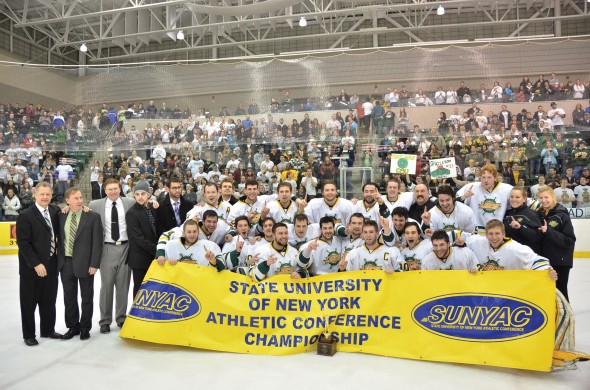 This past May, the Oswego State Lakers men's ice hockey program saw one of its most decorated classes walk across the stage during graduation.
The 14 seniors had 99 wins, four SUNYAC regular season titles, four national semifinal appearances, two SUNYAC tournament titles and two national championship appearances.
They had a top line which finished its career at Oswego State with a total 404 career points and a goalie who set three school, either season or career, records for net minders.
Coming this fall, head coach Ed Gosek has nine returning players from last year's national runner-up team and a whole new cast of characters ready to continue the Oswego State winning tradition.
The Lakers return five forwards, three defensemen and a goalie. At forward, they have seniors David Titanic (captain) and Kyle Badham (assistant captain), and juniors Chris Carr, Eli Kim-Swallow and Peter Rodrigues. In the defensive zone, they have juniors Bobby Gertsakis (assistant captain) and Nick Rivait (assistant captain) and sophomore Denton King at defensemen with sophomore Justin Gilbert returning in goal.
In the 2013 recruiting season, Oswego State brought in 24 fresh faces, including 16 forwards, six defensemen and two goalies.
The class consists of 20 freshmen and four transfer students. All four transfers come in with Division I collegiate experience.
That experience will be useful as the Lakers attempt to answer the questions swirling around the squad in the early stages of the season.
Those questions include: Is Justin Gilbert the Lakers' goalie or will it be one of the freshmen, Matt Zawadski and Simon Jasmin?
Where will the offensive production come from now that the class of 2013 is gone? Will the new blend of defensemen be able to keep up the Oswego State tradition of excellence? And most importantly, can lightning strike twice?
Here is some background on what that last question exactly means. The last time the Lakers brought in double-digit new players was in the fall of 2009, when last year's graduates arrived on campus.
That class arrived after the exit of a class which had three seniors combine for 412 points and had won the school's first national title in 2007. That 2009 class returned the Lakers to the National Championship game last season.
So, can the returning nine and the 24 newcomers in 2013 repeat history?
Carr is confident in the abilities of this group of players.
"I see us right at the top battling for the SUNYAC again," Carr said. "SUNYAC's going to be really tough this year but I still believe this program's a winning program. When they brought in the 20 freshman four years ago they still won the SUNYAC, I still think it's possible. I believe we're going to be a very strong team."
Rivait has seen all 33 guys put in the work and thinks it is going to pay off as Oswego State strives for its usual goals.
"People are going to underestimate us since we lost that big class and think we're not going to have it this year, but we're working hard and the amount of fitness, testing, workouts, skating and all the extra stuff we've been doing, guys are really coming together," Rivait said. "They're having fun. We're going to be a good team and everyone's excited. We're going to compete every game and try to be at the top again."
The key to being "at the top again" starts with winning games and Rivait's linemate Gertsakis said that "everything starts on the back end and moves its way up, so it's big for us to have success through the defensive core."
That Lakers' defensive core has only three returning members in Rivait, Gertsakis and sophomore Denton King. Aside from them, Oswego State has brought in six new recruits, among them two transfers from Division I programs.
The transfers are Mackenzie Scott, a sophomore from Canisius College, and Mike Wills, a junior from Merrimack College. Gosek believes Wills can step in and make an immediate impact.
"We look for him [Wills] to step right in and contribute," Gosek said.
Gertsakis is focused on keeping the Lakers' defensive tradition of dominant performances alive.
"Well, we've been in the top in goals against for teams in the country and I definitely want to keep that up," Gertsakis said. "We obviously don't want to be scored against."
He continued to discuss the confidence he has that the newcomers can help carry the torch on in this era of Oswego State hockey.
"We've got guys with a lot of all around talent," Gertsakis said. "We've got some big guys. We've got some skill guys. But, the most important thing is we want to be known for our defensive play and as much as we are a run and gun team we want to be defensively reliable and make sure we're having success off our back end."
The reliability will fall on at least one freshman, on any given night, and Gosek believes the four freshmen defensemen are "solid."
However, defense does not only fall on the two defenders on the ice. The three forwards will be called on to help out as well and all five returning forwards want to make sure all 21 forwards can play both ways.
"You don't want to be a liability out there," Carr said. "We play two ways here. You can't just be in one zone. I have to work just as hard on my offense and my defense and come back hard and make sure I'm there when they need me."
Badham understands what the Laker forwards need to do as well.
"There's probably going to be a few freshmen defensemen in the lineup and I think they can step in right away and play well," Badham said. "Right from the get go we want to make them feel comfortable out there, feel like they know what they're doing out there and know we'll be right there to help on the defensive end."
Even though Badham, Carr and the other 10 forwards will need to play both ways, they are still offensive players and will need to pick up the scoring hole left with the departure of the seniors last season.
Seniors accounted for 73.7 percent of Oswego State's goals last season. If you add in the two goals scored by RJay Berra, who transferred in the offseason, the number rises to 75.1 percent. So, the returners only scored about one in every four Laker goals during the 2012-2013 season.
Titanic, Badham, Carr and Kim-Swallow played solid minutes down the stretch last season and will see more ice time this season.
However, Peter Rodrigues will be making the biggest change in role. After spending much of his first two seasons battling injuries, he's determined and thinks he can contribute.
"I have had a little more adversity than I would've liked to with those injuries," Rodrigues said. "I feel like I've really learned a lot just from watching the game. You look at guys in last year's class like Chris Muise and Chris Brown who didn't play a lot in their freshman and sophomore years, then they took off in their junior and senior years. That's the trajectory I'm looking to follow."
Kim-Swallow also talks of having to step up as he heads into the second half of his career in Oswego.
"With more playing time and playing a different role this year I feel like, when the opportunity comes to capitalize, I have to do so," Kim-Swallow said. "Hopefully, if I capitalize on those chances like guys did last year in those scenarios I can be successful."
The team's captain is especially excited to step into a big role for his squad this season after not playing a point-scoring oriented game in his first three seasons.
"It's going to be nice to step out of the shadow of all those guys who were here with me," Titanic said. "I've always penalty killed and I still want to take pride in that, but I think I can contribute more offensively this year. I think I can be a guy who chips in on the power play, on a line that out works the other team and chips in offensively."
The final and most prevalent question is regarding the Oswego State goalie situation.
After losing Andrew Hare, who led the nation in shutouts and was at the top of the country in goals against average and save percentage, there is a hole in between the pipes.
The Lakers volunteer goalie coach, Peter Sears, is confident in all three goaltenders he has been working with.
"They're going to be ready to play," Sears said. "We're going to have good competition to see who's going to be playing the games. Hopefully all three kids can play or at least two can play on a regular basis, that's what we hope for. We're very confident and very positive."
Sophomore Justin Gilbert, Oswego State's only returner in net, is happy with what he has seen out of himself and the two freshmen goalies when it comes to their work ethic, compared to what he's experienced before.
"This is the hardest I've seen us work. We're leaving it all out there and this should be a good start to the season," Gilbert said.
Zawadski, a freshman goalie from South Carolina, thinks all of the net minders can get the job done because of the experience they bring to the ice.
"Coach brought Simon and I in because he knew we could get the job done," Zawadski said. "Gilbert's been here, he understands it and he's helped us. We're all working hard, we all have a lot of experience prior to here, so I think it's going to carry over into our college playing."
If Oswego State can bring this all together by Nov. 1, when the puck drops against SUNY Fredonia, the fans will have a lot to be excited about.
The battle for the conference will be tighter this year. SUNY Plattsburgh, who finished in second last season, only had the roster space to bring in seven new freshmen skaters.This is a testament to the experience they have returning.
Not to mention, they're returning a very skilled now sophomore class and a senior goalie Mathieu Cadieux who is a strong candidate for national goalie of the year.
Also, throw into the mix a SUNY Geneseo squad who finished third in the conference last season and Carr believes is "going to bring it this year."
Yet, Gosek is very excited for the 2013- 2014 season. The new guys have brought energy he said he has not seen in a while and it has been infectious among the players returning.
"I think they're going to be exciting to watch," Gosek said. "I think the fans are going to really enjoy the energy… They've been a fun team to coach, I can tell you that. They get after it. They're having fun and they're bringing youthful energy. They're competing their tails off for spots in the lineup. That competitiveness is good."