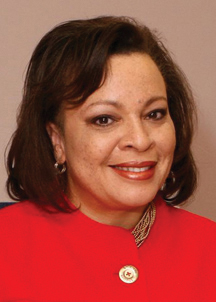 Jerald Woolfolk Adley will take over as vice president for student affairs and enrollment management at Oswego State on Jan. 1, 2014.
Oswego State President Deborah Stanley announced the appointment of Adley earlier this month. The spot was previously held by Joseph Grant, who retired in 2012.
Adley was attracted to Oswego State because of its incorporation into the SUNY system, the largest system of higher education in the country, and because of its rank on the Princeton Review's list of top institutions in the northeast. However, once she visited Oswego State, Adley fell in love with the faculty, staff and students and knew she found the right place.
"Once I came on to campus and I met the people and the students, that's what clinched the deal for me… I was sold," Adley said.
Adley has a rich and extensive background in higher education, having worked in various positions at three other colleges and universities prior to Oswego State.
Adley's most recent position was as vice president for Student Affairs and Enrollment Management and Diversity at Mississippi Valley State University. Mississippi Valley had a student population of "about 2,500 students" according to Adley, a large difference compared to Oswego State's approximate 8,500 students.
"It's not intimidating at all," Adley said. "The work we do in higher education is best practices and we do it wherever. I'm excited about it.
Adley's duties as vice president at Oswego State are similar to her duties at past universities. Adley will oversee the Division of Student Affairs and Enrollment Management. The division encompasses offices such as admissions, residence life, housing and athletics, among others.
"The only difference that I really see is athletics," Adley said. "Athletics reports to me here. At Mississippi Valley it did not, but when I was at the City University of New York College of Staten Island, athletics reported to me."
Adley's main goal is to work with the areas that she supervises in order to ensure student success. In order to do that, Adley says she will "make sure those areas are providing the services that students need to be successful."
In order to achieve student success, Adley says it is important that student affairs be connected with academic affairs.
"We notice that students who are engaged with faculty inside and outside the classroom are more likely to be successful," Adley said.
Therefore, Adley will be working with the various areas to provide out of class learning opportunities to the students. She will make the effort to partner more with faculty in order to give students a more enriching and fulfilling educational experience.
"We also want to be researchers and scholars on the student affairs side so that we can have a better understanding of how students learn and what students need in order to be successful," Adley said. "If students are to be successful, it takes the entire team."
In order to understand the needs of the students, Adley says that she will make sure to go out and become involved in student life.
"You'll see me in the cafeteria chatting with students," Adley said. "You'll see me walking around the campus. You're going to see me at the hockey games. I want students to know who I am and I want to know students."
Adley acknowledges that it is near impossible for her to get to know all of Oswego State's students personally, but she knows that in order to be successful in her new job, it is important to know at least part of the population.
"Of course I can't know 8,500 but if I can know 1,000 then they know that if they have a problem and don't know where to go, they can go see me," Adley said.
Until she starts in January, Adley is busy getting settled in and meeting the faculty in her division as well as getting to know the campus. She is looking forward to starting in her new position.
"I'm looking forward to being a part of this Oswego team that is committed to student success," Adley said.