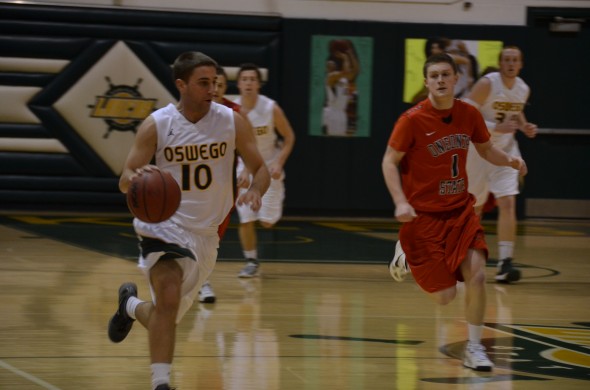 The Oswego State men's basketball team clinched a SUNYAC playoff berth on Senior Night with a 79-75 win over SUNY Oneonta on Tuesday, giving the Lakers a chance to defend their conference championship.
Led by senior Hayden Ward's career-high 33 points and 18 rebounds, the Lakers were able to hold off a late comeback by the Red Dragons, whom they lost to earlier this season. According to Oswego State second-year head coach Jason Leone, Ward's versatility is what has allowed him to be so successful.
"He has a scorer's mentality where when he gets it going, he can really score in bunches," Leone said. "Part of that is because he's very strong on the interior and can finish through contact, but he also is a very capable three point shooter and is usually a very strong free throw shooter."
Ward was not alone, however, as three other Lakers scored in double figures, including fellow seniors Alex Mirabito and Chris Gilkes. Still, the game got off to a rather slow start and the first half saw five lead changes, as the Lakers and Red Dragons battled back and forth.
Trailing by seven points with less than five minutes left in the half, the Lakers were able to put together a 9-0 run to give them a 40-38 lead at halftime. Looking to keep this momentum going in the second half, Leone focused on making defensive adjustments to his team.
"We switched our man to man assignments up a little bit," Leone said. "I just thought collectively we took a lot more pride in our defense in the second half and we played with a little bit better energy."
Thanks to this defensive effort, Oswego State went on another 9-0 scoring run at the beginning of the second half to give the Lakers some breathing room.
They were able to maintain their lead throughout the second half, until Oneonta made a late run with less than three minutes to play. In fact, Oswego State did not make a single shot from the field after the 2:57 mark. On top of that, the Lakers missed five of their eight free throws down the stretch, allowing the Red Dragons to get within three points of the lead. Yet, Leone is still confident in his team's ability to finish late in close games.
"It's nothing that we're too alarmed about because we've been good in close games all year, and I think it's important to understand that in conference play this time of the year, teams get better and Oneonta deserves some credit," Leone said.
Leone also believes that this late in the season it is the seniors' time to shine, as they have the experience and leadership necessary to win important games. As a class, the seniors of 2013 have compiled a record of 80-28 so far, with two NCAA tournament appearances and a SUNYAC championship. While they have two regular season games remaining before this year's playoffs begin, they will certainly use those past games to prepare themselves for the road ahead. However, the Lakers are focusing only on the game at hand for the time being.
"We're going to use these next two days of practice to get better, and it's going to be a tough road trip," Leone said. "Then once the two games this weekend are done, then we'll sit back on Sunday and figure out who we're playing and attack each game one game at a time."
Oswego State will travel to Potsdam on Friday for an 8 p.m. game, followed by a 4 p.m. game at Plattsburgh on Saturday. The Lakers will be looking to avenge their two point loss to the rival Cardinals earlier this season and close out the regular season with a victory.