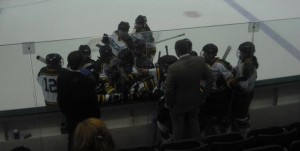 The Oswego State women's club ice hockey team began its season with lofty goals, and thus far has been achieving them with an impressive start to their season.
Oswego State is off to a 5-0-1 start and look to continue its winning ways. The team is coming off a key win on Sunday, Nov. 20 against SUNY Cortland at the Campus Center Ice Arena. Oswego State played with a short bench in what became a penalty-filled contest.
"The refs were not on our side," captain Katie Scheib said. After being down on the scoreboard, Oswego State would go on to have a player ejected as well.
"We had to shuffle things around, step back, and a few girls stepped up," Scheib said.
Oswego State went on to win the contest, 3-2, on overtime. Senior Liz Bernath thought the game showed Oswego State's character as a team.
"It was a test to not get down on ourselves," Bernath said.
Head coach Jon Zella said that both Bernath and Scheib have stepped up and played key roles for the team this year after last season saw several key players graduate. Along with the two seniors, newcomer Shauna Clair has been able to put the puck in the net for Oswego State and goaltender Sara Kenyon has had a solid season in between the pipes for Oswego State.
"We can play a full 60 minutes and come out strong in the third and put a team away," Bernath said.
One of the most important aspects of hockey is the ability to play physical and win battles in the corners and along the boards. Bernath thinks her team has excelled so far in all of these. These strengths combined have helped the team tremendously, Schnieb said.
"We play off each other's strengths and have each other's back," she said.
The special teams have been a focus point this year for the team as well, Zella said. Not just against Cortland, but the whole year, the penalty kill has bailed out the team. Taking fewer penalties is something that the team needs to improve on if they want to continue with success.
Zella said he tries to stress defense from his team.
"Defiantly work defense out," he said.
In conjunction with defense, Zella added that the team has a group of forwards that know how to break out of their own zone and put the puck in the net.
The club team is out of the ordinary in a sense because the team does not play in a league. The program is an independent team that picks and chooses who they play. Aside from tournaments, Oswego State recorded a nine-game regular season win total with only one loss last season. The team takes its success on the road this weekend against The College at SUNY Brockport on Friday at 8 p.m., and at St. Lawrence on Saturday at 3:45 p.m.