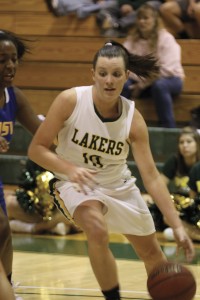 After losing four veteran players from last season's roster, many doubts surfaced around the Oswego State women's basketball team entering the fall. After a 3-1 start and a tournament victory in the Max Ziel Gymnasium Basketball Classic, the Lakers are silencing their critics.
With the departure of Traci Bacon, Kristen Diglio, Colleen McCready and Wanda Sanchez, who started in a combined 82 games last season, there was bound to be uncertainty surrounding head coach Tracy Bruno and her team when they tipped off the season in mid-November.
After all, this quartet produced 39 percent of the team's points per game last season. Leadership would become a key question heading into the 2011-12 season.
"We have really had to work at redefining roles. Kayla Ryan is our returning leading scorer but we need others to step up and contribute. Meagan Stover has done a great job right away and Jenna Rossi is a huge spark coming off the bench," Bruno said. "The positive, with the loss of four starters, is the increased competitive atmosphere in practice – there are four starting spots up for grabs as well as new minutes for those coming off the bench."
This season the Lakers have answered the doubters with Ryan leading the way. Accompanied by fellow starters Stover, sophomore guard Lauren Nunziato, junior guard/forward Kari Kipper and junior guard Kassie Kleine, the Lakers have averaged 62.0 ppg this season en route to winning three straight contests heading into Thanksgiving break.
The last of those victories came against SUNY Cobleskill, where Ryan scored a game-high 19 points, and Rossi added 15 points amidst shooting 13-of-14 from the free-throw line.
"The entire game felt like it was neck-and-neck," Ryan said. "We kept our composure and fought the entire game. Every single person that stepped on the floor contributed in one way or another."
Alongside Bruno the Lakers have also found powerful team leadership in senior captain Ryan and junior captain Taryn Smith, who were chosen to lead the Lakers to success this season.
"Being a captain is a great feeling and great honor," Ryan said. "This year will be a great season and I will try my best to help the team any way I can."
One of the team's goals for the season is to improve on last season's 11-15 record and qualify for the team's 11th straight SUNYAC postseason berth.
"Those thoughts began on October 15th when our season kicked off and honestly it was probably even earlier than that," Bruno said. "The opportunity to play in the postseason is why we work so hard and why we make such a strong commitment to focusing on every practice and every game to get better."
The first step toward that goal will be taken this weekend when the Lakers open conference play at home against SUNY Potsdam and SUNY Plattsburgh in back-to-back nights. After a long week of preparation and regaining focus, the Lakers feel they are ready for the task at hand.
"I think we mainly need to get our focus back and concentrate on our goal in basketball," Stover said. "Play great defense which in turn makes great offense."
"Defense will definitely be the key for our wins this weekend," Ryan said. "We are preparing for these two games all week and are determined to get these two victories."
Last season, the Lakers played the Bears and Cardinals a combined four times, winning three of the four meetings. The sole loss came at the hands of Plattsburgh by a score of 46-42, a game in which the Lakers shot 27.4 percent from the floor and allowed 20 turnovers.
"Both Potsdam and Plattsburgh have a couple of good returning players but have added a lot of new kids," Bruno said. "I think all three of us have potential to be very different than we were last year."
The second game last season was at Plattsburgh where the Lakers picked up the win, 67-47. Ryan and Rossi both scored in double figures that night.
Both Potsdam games were decided by nine points or less. The first was a 42-38 victory for the Lakers who saw a 20-point breakout game for Stover, and the second, a 60-51 victory, with the Lakers boasting three players in double figures.
"With both teams, we will have the advantage with our inside game so we will be focusing on working the ball inside as much as possible," Bruno said.
The conference streak continues next week on the road when the Lakers travel to Brockport on Tuesday, Fredonia on Friday, and finally Buffalo State on Saturday – a total of five games in nine days.
Last season, the Lakers had a record of 4-2, against these teams and outscored their opponents 413-385.
"Our ultimate goal is to make it to the SUNYAC Playoffs at the end of the year but right now we will continue to take it one game at a time. If we do that, the SUNYAC playoffs will be there in the end," Ryan said. "The depth we have on our team this year has helped tremendously. Every one of us, players one through fifteen, push one another in practice everyday and it has really showed during our games."
The Lakers recognize that the season has only just begun and there are still many games to be played. On top of trying to find longevity during the season, coach Bruno and her team is also enjoying the development of new players that increase the depth and flexibility of the roster.
"I am looking forward to watching who on our team continues to emerge as scoring threats, as great defenders, and as great leaders," Bruno said. "The great news is that I think those people can change. We are working incredibly hard in practice and we have a continued commitment to the defensive end of the floor. Only four games into our season and we are giving up 55 points per game. You give yourself many more opportunities to win with numbers like that."