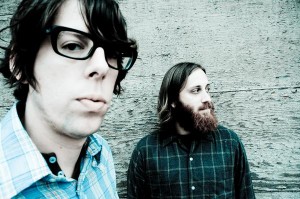 It has been quite a year for The Black Keys. Still riding the Grammy-winning success of last year's critically and commercially successful album "Brothers," the duo has finally emerged as one of the most prominent bands in modern rock after a 10-year career. One would think that the band would take a break to relax. In typical Keys fashion, though, they decided to skip the downtime and quickly make more music. The result is the group's seventh studio album, "El Camino."
The cover of "El Camino" depicts the van that singer/guitarist Dan Auerbach and drummer Pat Carney used to tour around in when they were first starting out. The cover is suitable, as the album serves as a nod to the band's journey from Carney's basement to the world stage. While the band's bluesy sound seems like it could grow stale after a while, the Keys manage to keep evolving their sound with every new release, quickening their pace this time around with heavy doses of '60s garage rock, rockabilly and even some Clash-esque riffs.
The duo has once again recruited longtime collaborator Danger Mouse for production duties. While "Brothers" felt like a very loose, sprawling effort, it seems Danger Mouse has tightened the group's sound up this time around. Notably absent on the album are the moments of R&B cross-genre hints. "Stop Stop" comes the closest to sounding anything like the groovy style of "Tighten Up." Minor flaws aside, "El Camino" doesn't have its share of pleasant surprises. "Hell of a Season" has a reggae-infused melody that makes it instantly stand out.
First single and opener "Lonely Boy" best indicates what the duo is going for on this album. Its irresistibly catchy hook and sing-along chorus should have many dancing and humming for weeks. This catchy, quick charm stays present throughout most of the album, with Auerbach's soulful vocal range making each track feel unique. Just when things appear to take a sudden dull acoustic turn on "Little Black Submarines," the song gets an intense jolt of life, shifting into a triumphant all-out jam without warning.
Perhaps the most impressive thing about The Black Keys is their ability to seamlessly channel a bunch of old influences and somehow make it feel fresh. They not only make it feel original, but also consistently sound more exciting with each album. "El Camino" is bursting with the same raw energy and talent that Keys fans have come to expect. It is quite evident that this is what Auerbach and Carney were born to do, and there are no signs of them slowing down any time soon.