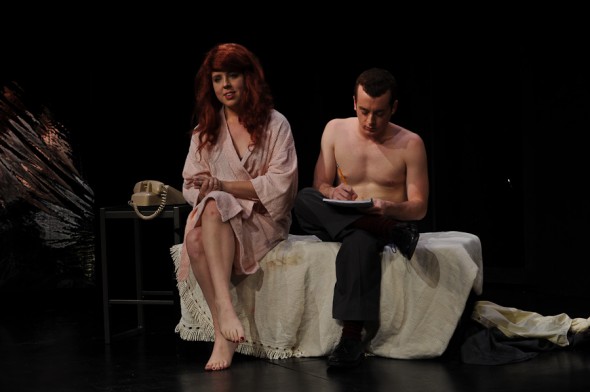 w"As Bees in Honey Drown" is a satire about artists in pursuit of success, and what the price of success really is. It opens with a goofy, lighthearted tone, and appears fairly whimsical for most of the first act. Hilarious, playfully obscene and very quotable lines abound (e.g."…and the lesbians shall inherit the Earth,"). Yet, the play simultaneously delves into a darker subject: the value of individual identity, what it means to give that identity up, and the consequences of living a life where fiction overwhelms reality.
The plot follows a writer, Evan Wyler (Daniel Distasio), and his overnight ascension to fame. He is not the most talented of writers, but he is devoted, or desperate. He changes his name and labors for nine years to finally get his moment in the spotlight. The audience is introduced to him at a photo-shoot for the jacket picture on his recently finished book. He wants a more classical, authorial look, but the photographer (Stephen Green) and his tipsy assistant (Marti Flicker-Podbersky) coerce him to go shirtless and strike a hot pose. The shot ends up on the cover of a celebrity magazine, and this is how Evan meets Alexa Vere de Ver (Courtney Bennet).
Alexa is in the industry of music, entertainment and fame and is looking for an author to write about the ins and outs of her star-studded career. She is unlike any woman Evan has ever met. She is stylish, powerful, poised and generous, yet vulnerable, seemingly a combination of every Hollywood persona. Her magnetic personality draws Evan into the world of the rich and famous, which he is thrilled to be a part of. As Evan records the story of her fantastically dramatic life, he starts to wonder if she is too good to be true.
"As Bees in Honey Drown" is a well written, entertaining play and the cast made it shine. Bennet turned in a great performance as Alexa, who she brought to life with manic charm and constant glamour. Alexa had some of the play's best lines, as she tends to talk spontaneously from thought, and imbues every phrase with suavity and baffling, over-the-top articulation. Evan's part was considerably less talkative, as he spends several scenes primarily listening to stories told by the other characters. Regardless, Distasio made up the difference with emotive facial expressions that kept Evan in the action, even when he was not the center of attention. With the exception of the two leads, each cast member portrayed a plethora of important parts, which they move between with great versatility.
In its second half, the show slows down a little, and becomes expository. A lot of time is spent exploring the past, instead of moving forward. The scenes devoted to exploring character background are necessary, but the scenes where Evan mulls over events, which the audience has seen in the play feel redundant. In particular, a lot of time is given to repeating lines from the first act, verbatim. These flashbacks are done to show how Evan slowly comes to terms with a startling revelation, but too much time is spent making a point that is already fairly obvious to the audience. However, this is a small flaw, and the final act builds to a very satisfying conclusion. Toward the end, many scenes become more technically demanding, involving dialogue that rapidly shifts among the whole cast. They were handled creatively, while the lighting and sound were used to great effect. Everything came together, and the impact was impressive.
"As Bees in Honey Drown" pulls in its audience with a charisma as strong as Alexa's. It has vibrant, complex characters whose struggles can resonate in our celebrity-obsessed society, where fame is the shining ideal, even when there is nothing behind it. It is smart, and laugh-out-loud funny.