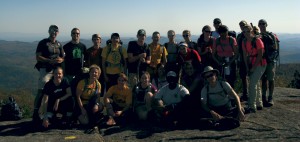 It's 7 a.m. on a cold, November morning and behind Funnelle Hall on a steep hill several students and faculty at Oswego State are running hill sprints.
Every Thursday morning before sunrise, students and faculty participating in the Winter trip to Tanzania to climb Mt. Kilimanjaro, the highest mountain in Africa, train as a group.
Kilimanjaro, also known as the roof of Africa, is composed of three peaks. The Oswego State group will be climbing Kilimanjaro, which stands 5,895 meters or 19,341 feet above sea level.
The quarter course is offered under PED 399, climbing Kilimanjaro. The course involves a Tuesday night class and a Thursday morning training session.
"This is an opportunity unlike any other," said Anthony Catalano, a senior English major. "I didn't want to miss it."
Catalano is one of 23 members of the Oswego State group traveling to Tanzania to climb Kilimanjaro.
Mehran Nojan, director of Institutional Research and Assessment at Oswego State, thought of the idea after seeing a fundraiser to climb Kilimanjaro for cancer.
"Why not take the idea of climbing Kilimanjaro to do it as a fundraiser for a international scholarship fund?" Nojan said. "So that is how the idea came about."
The scholarship will be used to help students fill the gap for funding study abroad trips so they have the opportunity to experience and immerse themselves in another culture.
The Kilimanjaro group has already raised $4,029 for the scholarship fund and is looking to meet the goal of $10,000.
The Kilimanjaro trip is part of a much larger initiative called Oswego Going Global, a group created by staff, faculty, students, alumni and friends of Oswego State.
The group was created to construct a community of students who are skilled problem solvers and who are able to face challenges before them, through skill development and international awareness.
Nojan, co-leader of the Kilimanjaro team, partnered with Gary Morris, interim director of the Compass and experienced climber of Kilimanjaro.
"Mehran and her daughter wanted to climb Kilimanjaro as a life experience and fundraising effort," Morris said. "So we had lunch one day and she picked my brain about the hike, what it really took, equipment and all those other details"
Morris climbed Kilimanjaro a few years ago and said the trip was the most humbling experience of his life.
"I felt incredibly lucky to have made it to the top. It was more reverential than celebratory," Morris said. "I was like, 'wow I shouldn't even be standing here, but I am.'"
Morris suffered from sun poisoning and altitude sickness on his climb up Kilimanjaro, but he persevered through it and made it to the summit.
The key advice that Morris gave the group is to get into the shape of your life and mentally prepare yourself against the battle of defeat, despair and suffering.
"The last 24 hours of the trip up has almost nothing to do with the physical part of it," Morris said. "You can't go on, it's a given. You're just shot so it becomes a mental battle at that point. Can you will yourself to keep going even though your body quit a while ago?"
Nojan asked Morris to join her on her first climb of Kilimanjaro and he said he couldn't say no.
"She (Nojan) really wanted a partner in this on campus, not just in an experience stand point, but to help organize the trip," Morris said. "It evolved into something that we wanted to take students on."
The idea evolved over the past two years and finally Nojan and Morris were able to design a course in the wellness major.
"The department of wellness management was very supportive," Nojan said.
Every Tuesday at 5:30 p.m. the Oswego State climbers get together for class, where they learn about vaccinations, training, nutrition, gear, altitude sickness and the culture of Tanzania.
During one class, consultants from Easter Mountain Sports brought in gear to educate the climbers about boots, packs, poles and clothes.
Recently the class did group presentations on the culture, music, and plants of Tanzania, as well as altitude sickness.
Climbers can be in top shape and still get altitude sickness, which is caused by high altitudes and lack of oxygen. This can lead to pulmonary and cerebral edema, which can make a climber sick to the point of death.
To reduce the risk of altitude sickness, climbers should have a slow ascent rate to allow the body to adjust to the altitude. The Oswego State group will take six days to climb up the mountain and two days to descend.
"There is altitude sickness that you cannot do anything to prepare for, except to remind myself that you go slow and drink lots of water," Nojan said. "This whole thing is not a race."
If a member of the group does get altitude sickness or injured and must stop, a certified porter will bring them down to an area where they can meet back up with the group after the climb.
Protus Mayunga, who grew up in Tanzania and worked as a porter as a young man, will guide the group. Mayunga has climbed Kilimanjaro over a hundred times. He is also the founder of The Roof Of Africa Adventures, the organization with which the Oswego State group is climbing.
As a group, the Oswego State climbers went on a test hike up Giant Mountain in the Adirondacks. It was a nine-hour climb.
The group has also focused on team building. They went to the climbing wall in downtown Oswego and afterwards went to Fallbrook for dinner.
As for training, each climber of the group has different techniques to get in shape for this adventure.
"I'm just hiking, about every weekend," said McKenzie Dillman, a junior technology education major at Oswego State.
Ashley Krakau, a senior adolescent education and biology double major at Oswego State, ran a five-mile race with her pack that had a note attached to it that said, 'Students training for Kilimanjaro. Ask me about it.'
During the Thursday morning sessions, members of the group have been challenged with hill sprints and group exercise courses involving plyometrics, cardio and strength training.
The climb will take a total of eight days to complete and afterward the group will travel to Longido Masai Village, where they will experience the traditional lifestyle of the tribe.
The following day, the group will head to Arusha National Park to visit a safari, where they will see animals and birds of that region in their natural habitat.
The group will also be visiting a local school where they will be bringing school supplies for the child.
"We'll be interacting with the culture," said Steve Baker, assistant director of Auxiliary Services and Fallbrook Manager. "These other pieces are just as exciting as the climb."
When researching about the trip, Nojan and Morris searched to see if other universities tried taking students up Kilimanjaro.
"We just decided to kind of start off with a pretty big bang and try something that to our knowledge, no others college has traveled to," Morris said. "We tried to find another college actually taking students up Kilimanjaro for any reason because we wanted to get some pointers."
Oswego State will be one of the first, if not the first university to bring students up Kilimanjaro.
"It's going to be a very big and mental challenge for all of us," said Stefanie Cornnell, a junior Zoology major.
The adventure will be a challenge and climbers will experience the different climate zones, as well as suffer through discomforts such as shortness of breath, headaches and the cold temperatures at higher attitudes.
"You need patience and compassion, because this kind of trip exposes you physically, emotionally and mentally," Nojan said.
Morris hopes that students will see that they are capable of far more than they think they are and are able to endure more than they think they can. He also anticipates that students will see themselves as a world partner not just an outsider.
The group will depart for Tanzania on Jan. 3 and begin the climb on Jan. 5.
"I want students to come away from this with a mental toughness that will pay for itself many times over throughout their life," Morris said.