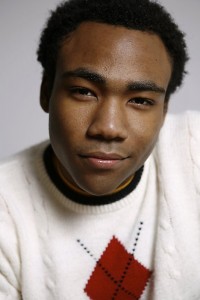 In the days of the blogosphere and Twitter, it is not uncommon for a musician to go from obscurity to a record deal virtually overnight. Though he has been receiving a lot of Internet buzz, Childish Gambino, the hip-hop moniker of Donald Glover, is a rather unique case. From his role as Troy on the NBC show "Community," to his writing stint on "30 Rock" and his popular stand-up comedy act, Glover is already a familiar face to many. An automatic skepticism usually comes with any actor-turned-rapper. On his first official commercial release, "Camp," Glover crushes any of those reservations.
Growing up in an Atlanta suburb and studying theatre at NYU, Glover has not faced the same struggles many rappers have, something he never hides or shies away from. Opener "Outside" is a surprisingly poignant story about his parents working multiple jobs so they could move him out of the projects to a better neighborhood. Because of this though, Glover has been the target of critics and bullies throughout his entire life, as he confesses on "Fire Fly" ("This rap stuff is magic/I used to get called 'Oreo' and 'Faggot'/I used to get more laughs when I got laughed at.").
The most impressive thing about "Camp" is how Glover makes it all sound so easy. Even though he comes off as the underdog, he already has a nasally flow reminiscent of Kanye West, beats like Lil Wayne, the instant accessibility of Kid Cudi and a contradicting sense of confidence and insecurity, similar to Drake. Glover's wordplay and grasp on pop culture is especially impressive, dropping references to everything from "Carmen Sandiego," Casey Anthony and "The Human Centipede." His trademark sense of humor is also thankfully intact, dropping clever, subtle and sometimes not-so-subtle jokes throughout.
"Camp" truly offers something for everybody, and Childish Gambino completely conquers everything he tries. Whether it is the raw, urgent rap of "Bonfire" and "You See Me," the ridiculously catchy electro-house dance of "Heartbeat," the soft croon of "Kids (Keep Up)," or the hilarious and bumping "L.E.S.," it is almost impossible not to find something to enjoy on this album. Glover's scatterbrained mind can be a bit overwhelming at times though. He quickly jumps from honest verses about his childhood struggles, to lines about his fetish for Asian women, to truly valid points on race relations ("Dude, you're NOT not racist cause 'The Wire's' in your Netflix queue"). It is occasionally frustrating, but it is all part of the essence of Childish Gambino.
Above all, Childish Gambino is Donald Glover channeling every aspect of his personality. Glover's upfront honesty is extremely refreshing. His killer flow, crafty wordplay, endless pop culture knowledge and occasionally bold statements make him a truly unique, welcome new voice that both rap and non-rap fans alike could easily embrace.